Sequel Bits: Men In Black 3, The Muppets 2, Catching Fire, Wrath Of The Titans, Hangover III, 300 Sequel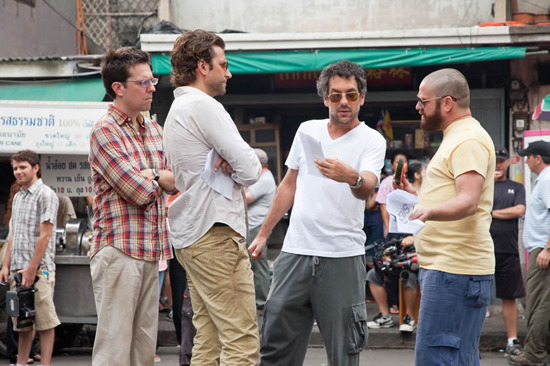 Music, release dates, expanded roles, clips and interviews. It's all in this edition of Sequel Bits. After the jump read about:
Pitbull, not Will Smith, will be doing the theme song to Men in Black III. A nation weeps.
Liam Hemsworth talks about how his expanded role in The Hunger Games sequel, Catching Fire, didn't change this performance plus Expendables 2.
A new clip has been released from Wrath of the Titans featuring Liam Neeson and Ralph Fiennes.
Kermit the Frog and Walter discuss Jason Segel's departure from The Muppets 2.
Warner Bros. gives official Summer 2013 release dates to The Hangover Part III and 300: Battle of Artemisia.
Despite all the hubbub surrounding production woes on Barry Sonnenfeld's Men in Black 3 starring Will Smith, Tommy Lee Jones and Josh Brolin, many of us took solace in hope that we'd at least get a new Will Smith theme song such as we did with Men in Black and Wild Wild West. (YouTube embeds there. You're welcome). However, it seems the world's biggest movie star is too busy shooting After Earth to do that and instead, popular hip hop artist Pitbull will do the song. It's called Back in Time (not to be confused with Back in Time from Back to the Future) and will be released next week, March 26. Read a comment from Pitbull and more over at Superhero Hype.
Those of you who see The Hunger Games this weekend might be confused about how little Liam Hemsworth, who plays Gale, is in the film. It's all set up for an expanded role in the second and third films, Catching Fire and Mocking Jay. However, he told Movies.com, all of what happens to Gale later was not on his mind in this movie. He also discusses some Expendables 2 at the link:
I read all of the books before shooting, and then I'd just stick one thing in my head – I'd just keep the script in my head, the first thing we were shooting at that point. And I don't try to think too far ahead at that point; obviously, there are things that you may need to take into account, but for me, the first book and the first movie are very similar, so they kind of became the same thing anyway. But I'd just focus on the script and turn up on set every day and be as present and honest as I can be.
Yahoo Movies has posted the first clip from Wrath of the Titans which hits theaters next Friday. It has to at least be better than Clash, right? Anyone?
MTV spoke with Kermit the Frog and Walter about Jason Segel's choice to not return for a Muppets sequel. No news here, but it's a fun interview nonetheless.
Get More: Movie Trailers, Movies Blog
Finally, Warner Bros. has changed up their Summer 2013 release schedule. Pacific Rim has moved from May 10 to July 12 to make room for The Hangover Part III, which will now officially open May 24, 2013. Also dated is 300: Battle of Artemisia which may, or may not, end up being the title of the sequel to 300. That'll be released August 2, 2013.