Producer Offers Update On Quentin Tarantino's 'Django Unchained'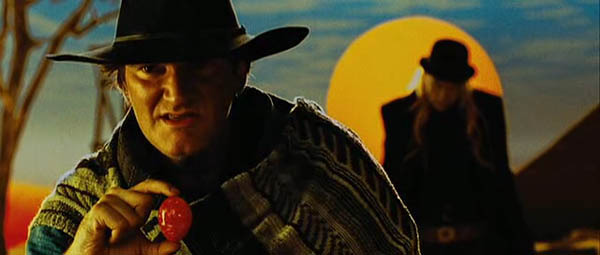 After a barrage of casting news followed by some very basic set photos, all's been quiet on the Django Unchained front for some time now. That's because writer/director Quentin Tarantino has been working hard with his amazing cast (Jamie Foxx, Kerry Washington, Leonardo DiCaprio, Don Johnson, Christoph Waltz, Kurt Russell, Samuel L. Jackson, Anthony LaPaglia) to complete the film, which is aimed at a December 25 release date.
So while we have yet to see or hear anything from the film, I asked the executive producer Michael Shamberg when that might change. We were on the set of his next film, Dylan Kidd's Get A Job starring Miles Teller, Bryan Cranston and Anna Kendrick, and he obliged with a small update. Read his quote after the jump.
Here's what Shamberg said when I asked when we may see some footage from Django Unchained:
I've seen some stuff and it's amazing. We're still shooting and my partner Stacey [Sher] is producing with Pilar Savone who worked for Quentin and Reggie Hudlin. I'm exec-producing and we're like, maybe, half-way through. You have no idea. It's the most amazing film cause, as you know, it's a spaghetti western about slavery and Quentin's vocabulary is such that it's just pure entertainment, Leonardo's the bad guy, it's gonna be awesome.
That's the basic lip-service a producer is going to give you on a film that's still in production but Shamberg not only produced Pulp Fiction for Tarantino, he's also did The Big Chill, Reality Bites, A Fish Called Wanda, Out of Sight, Contagion and many more. Not a bad track record. And it's good to know they're about half way done.
In the film Jamie Foxx plays Django, a slave freed by a bounty hunter named Dr. King Schultz (Christoph Waltz). The pair team up to free Django's wife Broomhilda (Kerry Washington) who is held captive by plantation owner and slave runner Calvin Candie, played by Leonardo DiCaprio.
How much are you looking forward to Django Unchained? When do you think we might see some footage?