'Madagascar 3: Europe's Most Wanted' Trailer - Now Bryan Cranston And Jessica Chastain Are Also Along For The Ride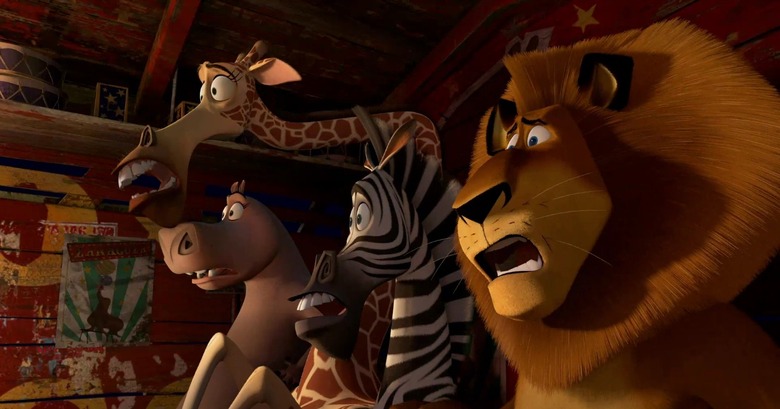 While the Madagascar franchise has never drawn Pixar levels of respect (what does, really?), for kid-oriented entertainment you could do a lot worse that these films. The series has generally been cute, mildly amusing, and totally inoffensive — which may not sound like glowing praise, but that's a lot more than I can say for Alvin and the Chipmunks: Chipwrecked — and the newest entry, Madagascar 3: Europe's Most Wanted seems to be along the same lines.
Ben Stiller, Chris Rock, David Schwimmer, and Jada Pinkett Smith are on board once again as a quartet of Central Park Zoo animals just trying to get back to New York. Unfortunately, they wind up in Europe instead, where they're chased by a ruthless animal control squad led by Capitaine Chantel DuBois (Frances McDormand). In an effort to escape their clutches, they take up with a circus traveling across the continent, meeting new friends like Vitaly the tiger (Bryan Cranston), Gia the jaguar (Jessica Chastain), and Stefano the sea lion (Martin Short) along the way. Watch the first full trailer after the jump.
I'll say this for Madagascar 3: There's some serious talent involved here. Not only does the movie boast a stellar cast, it also has a screenplay by Noah Baumbach, whose Fantastic Mr. Fox was one of the most lovable all-ages films I've seen in years. True, this trailer doesn't look like anything special, but I choose to be optimistic that the actual film will a cut above the usual kiddie fare.
Appropriately enough, the Europe-set adventure will be getting a European debut when it premieres at Cannes in May. Madagascar 3 will then get a theatrical release on June 8.
Synopsis
Alex the Lion, Marty the Zebra, Gloria the Hippo, and Melman the Giraffe are still fighting to get home to their beloved Big Apple and of course, King Julien, Maurice and the Penguins are all along for the comedic adventure. Their journey takes them through Europe where they find the perfect cover: a traveling circus, which they reinvent – Madagascar style.