'Prometheus' Full Theatrical Trailer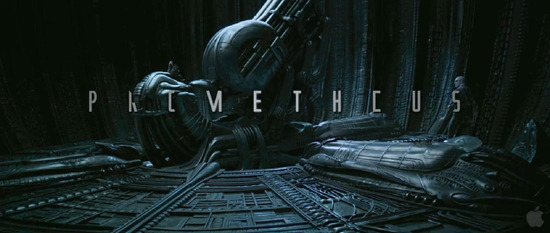 The full-length trailer for Prometheus has just gone online, and caps off a day of great promo materials for Ridley Scott's new film. Check it out below.
Yes. That's the way to do it. This trailer expands on the previous teasers, showing just enough to suggest, finally, the ways that Prometheus isn't just fan-service for lovers of Alien. We get a sketchy outline of the film's storyline, but are left with the sense that there is a lot left to discover.
Damon Lindelof and Jon Spaihts wrote Prometheus; it stars Noomi Rapace, Michael Fassbender, Charlize Theron, Idris Elba, Sean Harris, Kate Dickie, Rafe Spall, Logan Marshall-Green, Guy Pearce, and Patrick Wilson. The film will hit theaters June 8, 2012.
Ridley Scott, director of "Alien" and "Blade Runner," returns to the genre he helped define. With PROMETHEUS, he creates a groundbreaking mythology, in which a team of explorers discover a clue to the origins of mankind on Earth, leading them on a thrilling journey to the darkest corners of the universe. There, they must fight a terrifying battle to save the future of the human race.
[AMC]