'A Little Bit Of Heaven' Trailer: Forget The Dramedy Sap And Feast Your Eyes On Peter Dinklage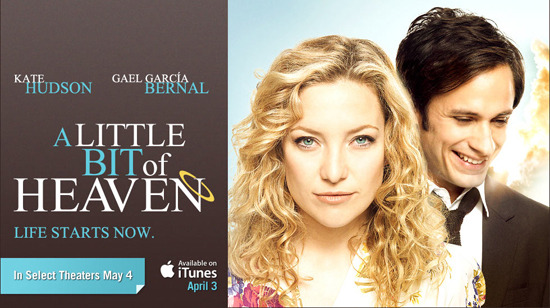 A PR email alerted me to the existence of this new trailer for the romantic dramedy A Little Bit of Heaven, which follows the life and loves of a young, pretty ad exec (Kate Hudson), who gets some pretty bad news at a visit to her doctor (Gael Garcia Bernal).
At first, the trailer seemed to be appropriate for some direct to DVD filler material, with moments that played to me with about as much success as if someone stretched the "I have breast cancer" scene from The Room to feature length.
And then Peter Dinklage showed up, and all was forgiven. (Hint: he provides the film's title, or so it seems.) Check out the footage below.
This clearly isn't a movie for me, and I don't have much good to say about the general career trajectory of Kate Hudson at this point. But I want to see all of the Peter Dinklage scenes, including all of his deleted ones. Dammit. Check out the year old trailer, too, which has no Dinklage, but does feature Whoopi Goldberg as, I think, an angel. Whoa. No wonder the Weinstein Company never bothered to release this last year.
Apple has the HD trailer. A Little Bit of Heaven opens on May 4, so when you can't get tickets to The Avengers you'll have another option.
A LITTLE BIT OF HEAVEN is a love story set in New Orleans about an irreverent young woman who unexpectedly falls in love with her doctor. Marley Corbett (Kate Hudson) is young, beautiful, and wildly funny, but she's afraid of opening herself up to true love and commitment. Though she uses her humor to prevent matters from getting serious, a life-changing visit to her doctor (Gael Garcia Bernal) sends both of them on an eye-opening adventure of mutual discovery, leading to revelations neither thought possible.