Sequel Bits: Joss Whedon Says He'll Work On 'Dr. Horrible 2' This Summer, Plus: 'Catching Fire', 'Riddick', 'The Incredibles 2', 'Madagascar 3'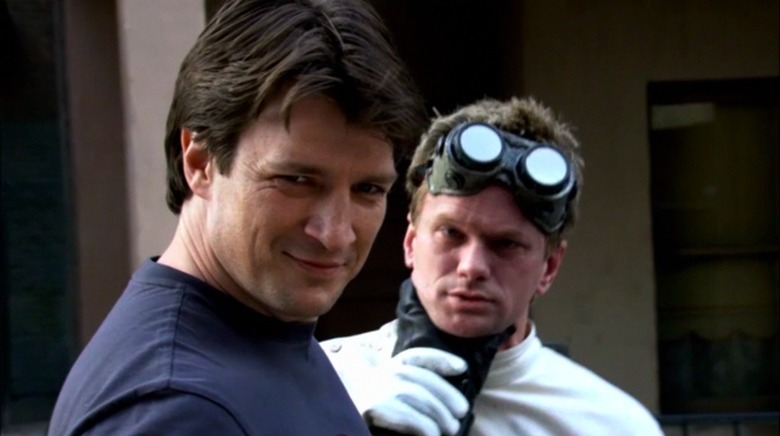 It may be a while before we see the triumphant return of Bob and Helen Parr and their superpowered brood, but if Joss Whedon is to be believed, a rematch between Dr. Horrible and Captain Hammer may not be so far off. After the jump:
Joss Whedon will get started on Dr. Horrible 2 this summer
Catching Fire (a.k.a. Hunger Games 2) won't be in 3D
Hey look, it's another new Riddick image
Brad Bird might maybe do an Incredibles 2 someday, eventually
Madagascar 3 will debut at Cannes
Whedon's Avengers opens May 4, with his Shakespeare adaptation Much Ado About Nothing expected to hit the film festival circuit this year. [Crave Online]
With stellar tracking all but guaranteeing a Gary Ross-directed Hunger Games sequel down the line, the filmmaker admits that, yes, he has begun thinking about what he might do with the second installment, Catching Fire. And while he says most of his ideas "are not fully baked" at this early point, there is one thing he's definitely made up his mind about. When MTV's Josh Horowitz asked whether Ross might consider using 3D for future installments of the series, Ross replied:
No, absolutely not, never. I don't think it's appropriate for this film. I think that if we shoot this movie in 3D, we become the Capitol. We start making spectacle out of something that I don't think is really appropriate here. There needs to be an aesthetic distance here because of the nature of the material, the premise, what they're doing. I think that cinematic techniques designed to intensify the experience if you feel them that way, aren't really appropriate. I mean I love 3D, I really do and I think it's a wonderful tool, I just don't think it's the right tool for this.
Ross makes an insightful point, and besides, based on what I've heard about Hunger Games' camerawork, it sounds like 3D wouldn't really suit the shooting style anyway. The Hunger Games comes out March 23. [via Screen Rant]
Vin Diesel hasn't been shy at all about sharing images from Riddick. His latest Facebook photo from the set offers a good look at the mercenaries seeking out the titular hero (Diesel), along with the caption "No regard for Necro royalty... Haha... Mercs!"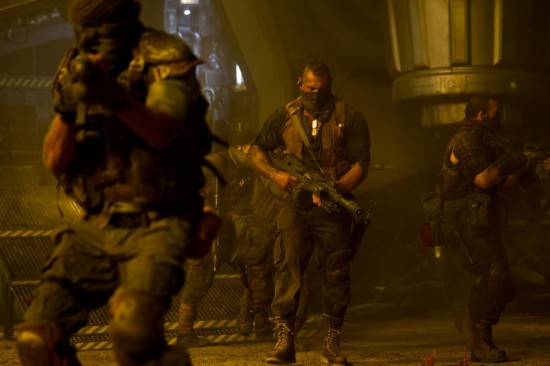 It's tough to see most of the characters' faces, what with the bandanas covering them up, but the one in the middle appears to be WWE star David Bautista. The plot sees Riddick abandoned on a remote world, where he must contend with dangerous alien predators. In order to escape, he activates an emergency beacon that brings mercenaries to the planet to look for their prized bounty — Riddick. [Collider]
It took Pixar four years to follow up Toy Story with Toy Story 2, and another eleven to get around to releasing Toy Story 3, but that unhurried pace worked out just fine for the studio. The two sequels are every bit as beloved as the original was, and that success has everything to do with the fact that Pixar waited for the right story to come along, rather than simply cobbling together sequel after sequel to maximize their profits.
Now Brad Bird is taking a similar approach with The Incredibles, which opened in 2004 and has had fans begging for a sequel ever since. "I would not say no to [The Incredibles 2], because I really love that world and I love those characters," he told IFC. But he doesn't want to move on it until he's got a plan in place:
I really love those characters and if I can figure out a whole story to do I would do it. But one of the advantages that we had in the original 'Incredibles' was that several of the characters had never really got to flex their muscles before. They were repressed, and it was about them discovering their own abilities... Any sequel to it, that particular thing — which is really a wonderful thing to be able to explore in a movie — that's sort of gone. And so you have to find something that is equally interesting to do in a sequel.
Yes, please. Take all the time you need. [IFC]
Having previously premiered Shrek, Shrek 2, Over the Hedge, and Kung Fu Panda at Cannes, DreamWorks will head back to the Croisette this year to debut Madagascar 3: Europe's Most Wanted. The animated comedy sequel is only the second title announced so far from this year's lineup, following Wes Anderson's Moonrise Kingdom. Madagascar 3 may seem on the surface like it'd be out of place at a prestigious European film festival, but then again, it does boast a script by Noah Baumbach. Cannes runs May 16-27 this year; Madagascar 3's theatrical release will hit June 8. [Variety]