Casting Bits: Rupert Grint And Chloe Moretz In 'The Drummer', Tom Felton In 'Attachment', Keira Knightley In 'Safe Haven'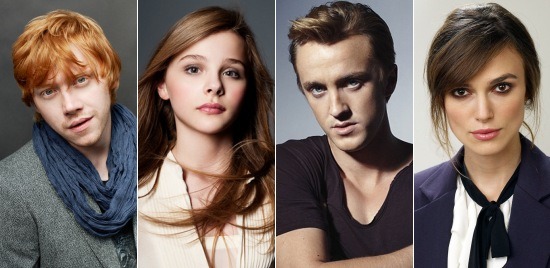 Emma Watson and Daniel Radcliffe aren't the only former Harry Potter stars getting their post-Hogwarts careers on. After the jump, Rupert Grint and Tom Felton find new roles, along with Chloe Grace Moretz and Keira Knightley in this mostly British edition of Casting Bits.
Grint is set to play Stan Shapiro, a William Morris mailroom intern who became one of Wilson's closest friends in his final years, while Moretz is in final talks for the role of Wilson's daughter Jennifer. Farmiga will play Fleetwood Mac singer-songwriter Christine McVie. The Drummer will begin shooting June 15. [Variety]
As his latest film Detachment moves into New York theaters this weekend, director Tony Kaye is gearing up for his next project, the similarly titled but unrelated Attachment. Tom Felton has just been added to the cast, joining previously announced star Sharon Stone in the Christopher Denham-penned sexual thriller.
Stone plays a married teacher who has a brief tryst with one of her students (Felton). The boy consequently begins to stalk the teacher, even as he starts dating her teenage daughter. Production will start sometime within the next few months. [Coming Soon]
Nicholas Sparks adaptation seem to be almost a rite of passage for young, attractive stars, and apparently not even Keira Knightley is exempt. The actress, who's alternated between mainstream and arthouse/indie fare throughout her career, has entered early talks for the lead in Safe Haven.
If she signs on, she'll play a beautiful young woman named Katie whose sudden appearance in a North Carolina town rouses suspicion and curiosity among the locals. She eventually falls for a widowed father, but — this being a Sparks tale — continues to struggle with a "dark secret" from her mysterious past. Sparks vet Lasse Hallstrom (Dear John) is directing. [Twitch]