'Hemingway & Gellhorn' Teaser - Clive Owen And Nicole Kidman Make Love And War For HBO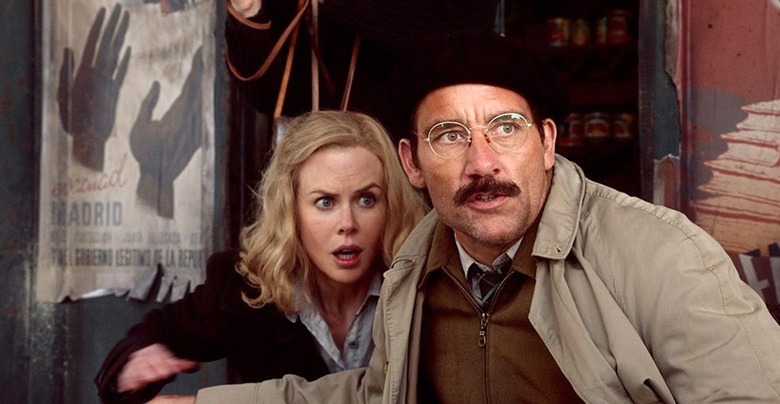 The next Emmy Awards ceremony won't take place until this fall, but if you're looking to start sizing up the potential nominees early, HBO Films' Hemingway & Gellhorn is probably one you'll want to keep an eye on. Even setting aside from the fact that the network has a history of raking in those awards, the film has everything you could possibly ask for in a prestigious made-for-TV project, from top-level movie stars and a respected movie director to a sweeping historical plotline.
Clive Owen and Nicole Kidman play iconic American writers Ernest Hemingway and Martha Gellhorn, who shared an ardent but destructive love affair in the 1930s and 1940s after covering the Spanish Civil War alongside each other. Watch the first teaser after the jump.
[via Cinema Blend]
HBO must be really worried you'll somehow miss the theme of this film, because this teaser drops the word "war" four separate times.
If there's one thing Hemingway & Gellhorn doesn't have going for it, it's that Owen's left with the unenviable task of trying to top Corey Stoll's breakout performance as Hemingway in last year's Midnight in Paris. This being Owen, though, I'm sure he'll manage somehow. What I'm more intrigued by is Kidman's performance, as the sexy but hard-edged Gellhorn seems to suit the actress to a T.
Directed by Philip Kaufman (The Unbearable Lightness of Being), Hemingway & Gellhorn premieres Monday, May 28 on HBO.
Synopsis:
HEMINGWAY & GELLHORN recounts one of the greatest romances of the last century – the passionate love affair and tumultuous marriage of literary master Ernest Hemingway and the beautiful, trailblazing war correspondent Martha Gellhorn – as it follows the adventurous writers through the Spanish Civil War and beyond. As witnesses to history, they covered all the great conflicts of their time; but the war they couldn't survive was the war between themselves.