Olivia Wilde And Jason Sudeikis Cast In 'Relanxious'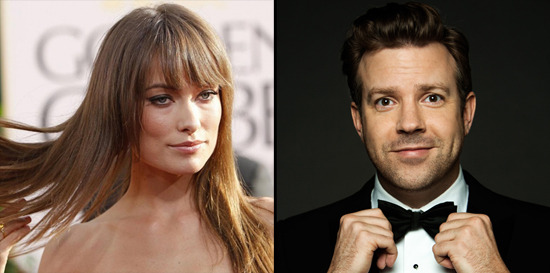 First-time feature director Christopher Storer has landed an impressive cast for his debut comedy: Olivia Wilde, Jason Sudeikis, Brie Larson and Fred Armisen are all set for a comedy called Relanxious. It's a somewhat awkward title, sure, but the characters within also sound like they've got some issues. More details follow.
Deadline announces that the script, by Storer, features Wilde as Barrett, "an anxiety-ridden woman" who meets and falls for the agoraphobic George (Sudeikis). How they meet is unclear, but the result sounds unconventional, to say the least: the two engage in extensive phone conversations "in which they discuss the dates they would go on if their phobias didn't stand in the way."
Eventually the two try to move beyond their fears, in part through the help of Barrett's sister (Brie Larson) and George's one good friend, to be played by Fred Armisen.
Storer is a first-timer as a director, but he has some writing and producing credits. Sadly, it looks like his most recent feature writing credit is a coming of age comedy called Sin Bin, "a high school take on The Apartment," that shot in 2010 with Michael Seater, Emily Meade, Bo Burnham, Ben McKenzie, Jeff Garlin and Tim Blake Nelson, Gillian Jacobs and Brian Petsos. That one is unreleased at this point, and I don't have any specific reason why. (The last news mention of the film is from August 2010, when an in-progress version was set to screen.)