First Look: Seth MacFarlane's 'Ted' And Genndy Tartakovsky's 'Hotel Transylvania'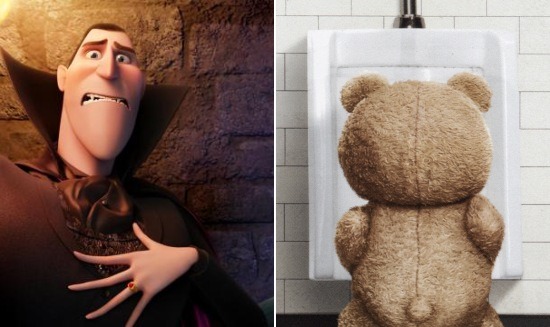 Two small-screen animation heavyweights will be making their first forays into feature filmmaking this year, though the projects couldn't sound more different. This summer will see the premiere of Family Guy creator Seth MacFarlane's rather insane-sounding R-rated comedy Ted, while Genndy Tartovsky (Samurai Jack) will follow this fall with the more family-friendly animation Hotel Transylvania. After the jump, check out a new poster from the former and new images from the latter.
[via Collider and First Showing]
Technically, I guess you can't call these images of Hotel Transylvania a "first look," since we've glimpsed some of these characters before. But since it's the best look yet at most of them, let's just go with it. In the larger group photo, from left to right, that's Dracula's daughter Mavis (Selena Gomez), the werewolves Wayne and Wanda (Steve Buscemi and Molly Shannon), Murray the Mummy (Cee Lo Green), Dracula (Adam Sandler), and Frank (Kevin James)... and I assume that big space in the middle is for Griffin the Invisible Man (David Spade). The smaller photo shows Dracula and Johnnystein, Mavis' human suitor voiced by Andy Samberg.
Tartovsky's first cinematic project doesn't look quite as distinctive as some of his TV stuff, but these characters look cute and I can't really complain. Here's the synopsis:
Welcome to the Hotel Transylvania, Dracula's (Adam Sandler) lavish five-stake resort, where monsters and their families can live it up, free to be the monsters they are without humans to bother them. On one special weekend, Dracula has invited some of the world's most famous monsters – Frankenstein and his bride, the Mummy, the Invisible Man, a family of werewolves, and more – to celebrate his daughter Mavis's 118th birthday. For Drac, catering to all of these legendary monsters is no problem – but his world could come crashing down when one ordinary guy stumbles on the hotel and takes a shine to Mavis.
Hotel Transylvania opens September 21.
Moving on to Ted: While it's not an official still or set photo, this poster from SXSW offers some insight into the overall look and tone of the film. Mark Wahlberg stars as a man who, thanks to a childhood wish come true, is accompanied everywhere by a living teddy bear (voiced by MacFarlane). Complicating matters is the fact that said toy isn't nearly as cuddly as it looks; instead, it's a foulmouthed, potsmoking troublemaker. Also starring Mila Kunis, Giovanni Ribisi, Patrick Warburton, and Joel McHale, Ted hits theaters July 13.