Sequel Bits: Bret Easton Ellis Considering An 'American Psycho' Sequel, Plus: '[REC]3: Genesis' Trailer, 'X-Men: First Class 2', 'The Fighter 2', 'Terminator 5'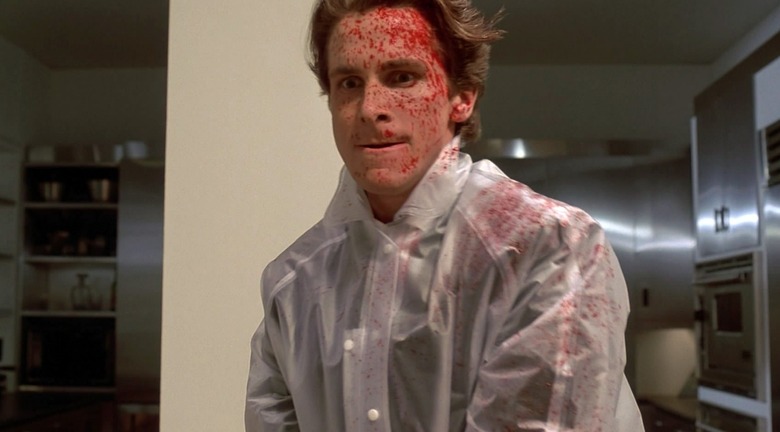 In this edition of Sequel Bits, it is once again hip to be square. As well as to be mutated, undead, and/or cyborgian. After the jump:
Yes, Jennifer Lawrence wants to do X-Men: First Class 2
Bret Easton Ellis says Patrick Bateman would want to get it on with Chris Brown and Rihanna
[REC]3: Genesis gets a creepy new trailer
Producer Victor Kubicek talks Terminator Salvation, wishes the Terminator 5 folks good luck
Lawrence also spoke about how "cool" it was to tackle one of Marvel's best loved characters. "It wasn't until later [that I thought]... 'I'm Mystique.' She's kind of like a historic superhero, and that's really important to a lot of people, and these comics have been around for so long," she said. "It was a cool thing to be a part of." Given that screenwriter Simon Kinberg's said that the sequel would focus on Mystique's pal Magneto — and that Lawrence, like her co-stars, is contracted for at least one more film — I suspect she'll get the chance to be a part of it again soon. [MTV]
It's been over two decades since the publication of the novel and over a decade since the release of the cinematic adaptation, but American Psycho is about to enter the cultural conscious all over again. Late last year, Lionsgate announced a remake of the serial killer tale, and now it seems Bret Easton Ellis, who wrote the original novel, is interested in diving back into Patrick Bateman's mind as well, albeit not quite in the same way.
Ellis took to Twitter to brainstorm ideas about a possible American Psycho sequel that'd pick up with Patrick in 2012, when, according to Ellis, he'd be fantasizing about threesomes with Chris Brown and Rihanna, enjoying Tate Taylor's The Help, eating waffles with Coldplay's Chris Martin, and posting pictures of his kills on Facebook. The theoretical sequel would also delve into Bateman's past, showing his first murder (his father's mistress). In addition, Ellis floated the idea of a separate novel centered around Patrick's brother Sean, one of the central characters of Ellis' Rules of Attraction, who's now "a total fag in West Hollywood where he contracts AIDS in the local Pavillions."
Whether Ellis' comments about Patrick Bateman's 2012 whereabouts are idle musings or the foundation of an upcoming work remains to be seen, but as of a few days ago, Ellis tweeted that he had 14 pages of notes so far and that he might be calling his publisher. I hope he will. Personally, I'd much rather see a sequel (that's not American Psycho II: All-American Girl, I mean) than a remake. Head to Ellis' Twitter to read more of his Bateman-related thoughts. [via MovieWeb]
Everyone's got their own hair-raising wedding anecdote, but it's doubtful that even the wildest of drunken shenanigans could top an actual zombie outbreak. Paco Plaza's SXSW-selected [REC]3: Genesis sees a pair of blissful newlyweds (Leticia Dolera and Diego Martin) find the happiest day of their lives become the worst when a mutant virus begins to infect their guests. Watch their trailer below:
[REC]3: Genesis, which serves as both a prequel and a sequel to the two previous films in the series, played at SXSW this past weekend and is scheduled to hit theaters in Spain on March 30. A U.S. release date has not been announced at this time, though it's likely to hit VOD and DVD sometime this year. [First Showing]
As the Terminator franchise barrels on ahead with the Megan Ellison-produced Terminator 5, TheArnoldFans went back to catch up with Victor Kubicek, who produced the previous installment of the series. Kubicek wished Ellison "the best of luck" with T5, saying, "I hope they stand their ground because it's a tough job and it's hard to stick to your guns creatively with a franchise this massive with so many outside influences. Trust me, I know."
But where the interview gets more interesting is when TAF looks back with Kubicek at Terminator Salvation. "I think Terminator 4 holds up pretty well and I stand by it," Kubicek asserted. However, he has a few regrets: "I think the PG-13 rating may have hurt the film but I guess we will never know." Kubicek was also somewhat critical of star Christian Bale. "I don't think he quite did his personal best in this film and the tantrum was its own crazy thing that we should leave to him to explain," he told the site. "Did it turn off some people? Probably." Head to TAF to read the rest of the interview, as well as for the site's exclusive pics of cyborgs and corpses created for Terminator Salvation.