Warner Bros. Now In Talks To Make 'The Dark Tower,' Javier Bardem Still Attached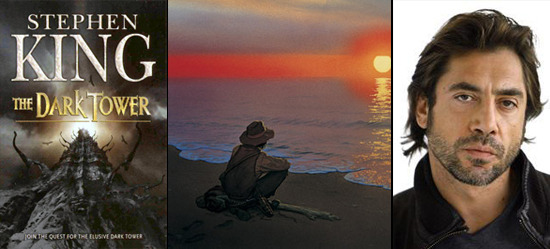 Fittingly for Stephen King's long, winding novel series The Dark Tower, the road to the screen for the property has been a weird and bumpy one. Conceived by Ron Howard, Akiva Goldsman and Brian Grazer as a very ambitious adaptation that would involve three films and two connective television mini-series, the adaptation was originally housed at Universal, thanks to the company's deal with Grazer and Howard's Imagine Entertainment.
But Universal balked at the cost of the project, and so Imagine went shopping with The Dark Tower, which has had Javier Bardem attached to star as the Gunslinger, Roland Deschain.
Now it looks like Warner Bros., which has already been planning a multi-film adaptation of Stephen King's The Stand, is likely to pick up The Dark Tower. But will any of the project's ambition change?
Deadline says that WB is "now very close" to a deal that will put Ron Howard in the director's chair for at least the first film in the series. Goldsman and Grazer are still on board and Bardem remains attached to star. The actor's commitment to the film will be contingent on scheduling, but right now he's still in the mix.
Warner Bros. would essentially be purchasing Goldsman's current script, and hiring him to polish it. (That script was stripped back a bit last year in an attempt to bring the budget down into a range that Universal was comfortable with.) Howard could direct the film in the first quarter of 2013, but we don't know about the TV aspect, which Goldsman was scripting with Mark Verheiden. Last word on the TV mini-series was that HBO was a likely home for the show, and that works out just fine if Warner Bros., which has a relationship with HBO, takes the features.