Early Buzz: Brief, Very Positive Reactions To 'The Hunger Games'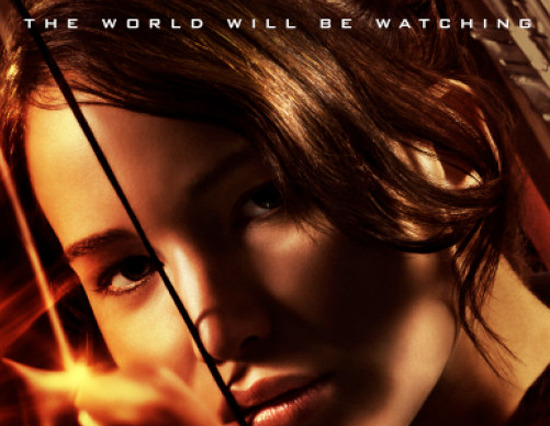 Just over a week ago, Lionsgate held an early press-invited screening for The Hunger Games in LA. Attendees were thoroughly bound by NDA and embargo, but today some of those constraints were lifted. That means that the people who've seen the film so far are allowed to talk on Twitter about the film, though they can't yet post full reviews.
After the break, we've got a roundup of twitter reactions from people who've started talking about the film. So far, it's all very positive. Could Lionsgate and director Gary Ross have really hit the bullseye with this post-apocalyptic adaptation?
We'll start off with Germain's mention from this morning, when he said "I'm now allowed to officially say the movie is exceptional." On Twitter he added "An exciting, emotional adaptation that gets most everything right. Its one flaw is it might be too smart for itself."
And then this was all available on Twitter today: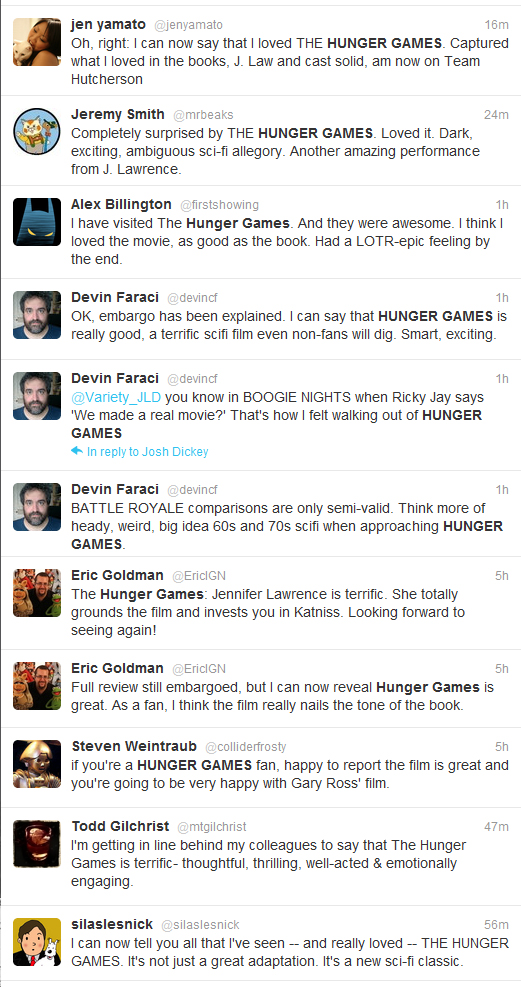 That's all pretty impressive, and I'm sure there are some people out there who haven't liked the film, but so far everyone I've talked to, and the reactions like those above, are all quite positive. That's far better than fans probably could reasonably expect. That might only make the last couple weeks of March more difficult to wait out.
The Hunger Games opens on March 22.
Every year in the ruins of what was once North America, the evil Capitol of the nation of Panem forces each of its twelve districts to send a teenage boy and girl to compete in the Hunger Games. A twisted punishment for a past uprising and an ongoing government intimidation tactic, The Hunger Games are a nationally televised event in which "Tributes" must fight with one another until one survivor remains. Pitted against highly-trained Tributes who have prepared for these Games their entire lives, Katniss is forced to rely upon her sharp instincts as well as the mentorship of drunken former victor Haymitch Abernathy. If she's ever to return home to District 12, Katniss must make impossible choices in the arena that weigh survival against humanity and life against love. THE HUNGER GAMES is directed by Gary Ross, and produced by Nina Jacobson's Color Force in tandem with producer Jon Kilik. Suzanne Collins' best-selling novel, the first in a trilogy published by Scholastic that has over 16 million copies in print in the United States alone, has developed a massive global following.