'The Three Stooges' International Trailer - More Plot, Still No Laughs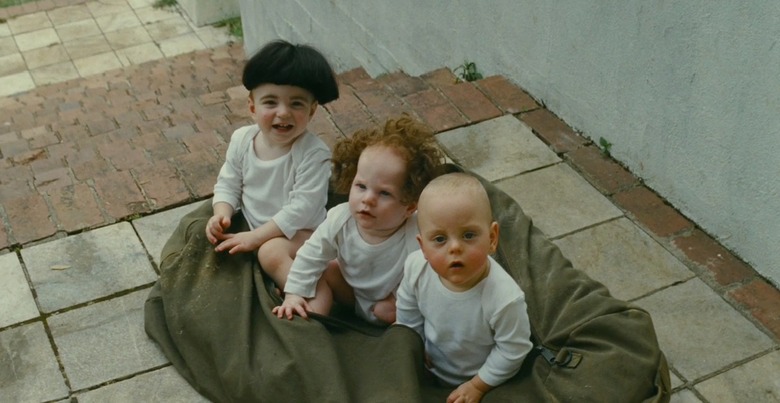 Although that first domestic trailer for Peter and Bobby Farrelly's The Three Stooges left me pretty cold, with just a month to go until the film's release it seemed worth giving the new international trailer a fair shot. Unfortunately, though the new video does more efficient job of laying out the plot, it fares no better at bringing the funny. Your mileage may vary, though, so check out the trailer after the jump.
[via The Playlist]
Apologies for the crappy quality of the video, but honestly I doubt the crispest, clearest HD would've done much to improve the jokes. This looks... dire. Though I do like that apparently evil Sofia Vergara says what we're all thinking: "Those Three Stooges must die."
What makes these cringeworthy trailers even more disheartening is the fact that, unlike so many of the other horrid comedies that come out in any given year, this movie isn't a cynical cash grab. The Farrelly Brothers have labored for years to bring this passion project to life, and in an ideal world, all that care and effort would've paid off much better.
Not that all of the problems are the Farrellys' fault. The fact is that the Three Stooges' special brand of comedy was much more in line with mid-20th century tastes than it is with 2012 ones, it's genuinely tough to imagine how the Farrellys could've updated the trio for contemporary audiences without losing sight of them completely. Oh well. Just because someone is really excited about something doesn't mean it's always a good idea.
Starring Sean Hayes, Will Sasso, and Chris Diamantopoulos, The Three Stooges opens April 13.
Synopsis:
Left on a nun's doorstep, Larry, Curly and Moe grow up finger-poking, nyuk-nyuking and woo-woo-wooing their way to uncharted levels of knuckleheaded misadventure. Out to save their childhood home, only The Three Stooges could become embroiled in an oddball murder plot...while also stumbling into starring in a phenomenally successful TV reality show.