'Prometheus' And 'Frankenweenie' To Be Released In IMAX 3D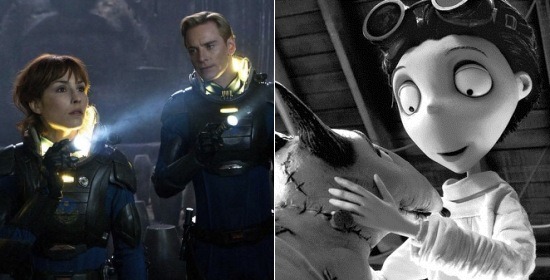 Two films we've been looking forward to will be making an even bigger splash than we had anticipated. The IMAX Corporation has announced that Tim Burton's Frankenweenie and Ridley Scott's Prometheus will each be getting IMAX 3D releases, starting on the same day as their regular theatrical runs. Though neither film was shot in IMAX, they're both being digitally re-mastered into the IMAX format. More details after the jump.
While we already knew that Prometheus would hit theaters in 3D — Scott liked working with 3D so much, in fact, that he's said he'll "never work without 3D again" — the film is being remastered for IMAX as well. Prometheus, which opens June 8, is the only title currently slated for those giant screens until The Amazing Spider-Man debuts on July 3.
Then, a few months later, we'll see the IMAX 3D opening of Frankenweenie, Burton's comic retelling of the classic Frankenstein tale. Featuring a voice cast that includes Winona Ryder, Catherine O'Hara, Martin Short, and Charlie Tahan, the stop-motion, black and white picture centers around a young boy named Victor whose dog Sparky dies unexpectedly. Heartbroken, Victor finds a way to bring Sparky back to life, setting off a chain of monstrous consequences.
If "stop-motion" and "black and white" sound like phrases not generally associated with the IMAX format, you're right — Frankenweenie will represent the first stop-motion animation and the first black and white film to ever hit IMAX screens. Frankenweenie is set for an October 10 bow. As of right now, Frankenweenie has an entire month to itself before Skyfall takes over on November 9.