'Hunger Games' Producer Talks Sequels; Will Honor Author's Wishes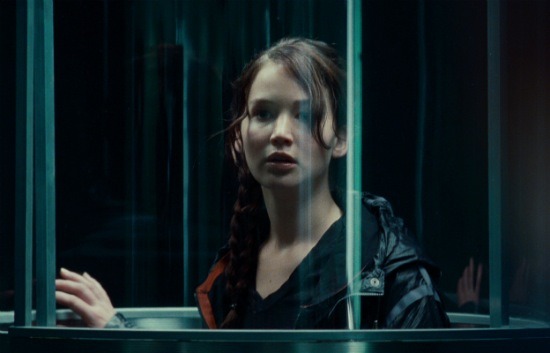 The news fans of The Hunger Games have been waiting for is finally here. I'm now allowed to officially say the movie is exceptional. A full review will be out next week as we get closer to the March 23 release but, the second you walk out of it you'll be dying to see the sequel: Catching Fire. Screenwriter Simon Beaufoy is adapting the book and director Gary Ross, who knocked this movie out of the park, will be back along with the entire surviving cast. And if we're talking about Catching Fire, it's hard not to think of MockingJay, the third and final book in the series.
A few months back, Lionsgate suggested they might go the Twilight/Harry Potter route and split that final book into two movies, a decision many fans saw as unneccsary. At a recent junket, I asked producer Nina Jacobson – the woman who discovered Suzanne Collins' book in a book store and brought it to Hollywood – if that was actully going to happen. Read her answer after the jump and check back soon for a full interview with Ross.
To set the stage for a third, or even fourth, movie, a second needs to be completed first. Jacobson said the second film isn't completely a sure thing yet, though things "look pretty good right now." A Fall start date is likely aimed at a possible November 2013 release date. Beaufoy was Ross' personal choice to write the script and while the director hasn't begun to truly dive into Catching Fire, he's thought a lot about it and committed to doing it next. But what about MockingJay being split? Here's Jacobson:
The third one? We haven't even, honestly, started to figure it out yet. There's a lot of material in that book. Ultimately, it's a conversation with Suzanne [Collins] and Lionsgate. I am very committed to Suzanne. She entrusted me with her books and I'm never going to do anything to break her trust.
Obviously, that's not a confirmation or denial that the book will be split into two films, just an assurance that, if that decision is made, it will have the Suzanne Collins stamp of approval. And that has to be a measure of relief for Hunger Games fans.
The Hunger Games begin on March 23 and, next week, you can read my full review. We'll also have a long interview with director Gary Ross in the coming days.