'21 Jump Street' Extended Red-Band Trailer - High School Sure Has Changed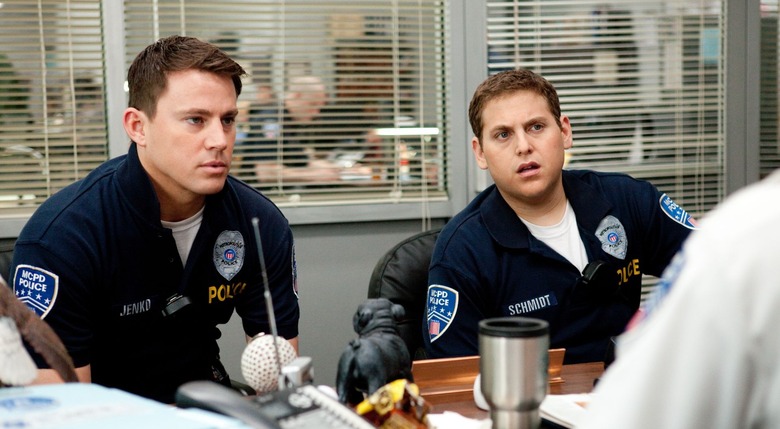 With just ten days left until the release of 21 Jump Street, the marketing folks are ramping up their efforts with an extended red-band trailer that clocks in at nearly five minutes. Some of it is stuff we've already seen in the previous trailers, but there's a good amount of new stuff as well, including trippy, drug-induced hallucinations and Channing Tatum miming a lightsaber fight with his teen nerd crew. Watch the video (NSFW for language) after the jump.
Though Tatum has mainly stuck to drama and action throughout his career, the 21 Jump Street trailers suggest that he may want to think about transitioning into comedy — I don't think I've ever found him so lovable as I do here. The fact that he and co-star Jonah Hill have fantastic chemistry helps a great deal as well. 21 Jump Street obviously has little in common with the TV drama it's ostensibly based on, but it's shaping up to be a very solid, enjoyable entry into the buddy cop action-comedy subgenre.
Directed by Phil Lord and Chris Miller and also starring Ice Cube, Dave Franco, Brie Larson, and Rob Riggle, 21 Jump Street hits theaters March 16.
Synopsis:
In the action-comedy 21 Jump Street, Schmidt (Jonah Hill) and Jenko (Channing Tatum) are more than ready to leave their adolescent problems behind. Joining the police force and the secret Jump Street unit, they use their youthful appearances to go undercover in a local high school. As they trade in their guns and badges for backpacks, Schmidt and Jenko risk their lives to investigate a violent and dangerous drug ring. But they find that high school is nothing like they left it just a few years earlier – and neither expects that they will have to confront the terror and anxiety of being a teenager again and all the issues they thought they had left behind.