Watch A 12-Minute Making Of Video For Disney's 'Cars Land'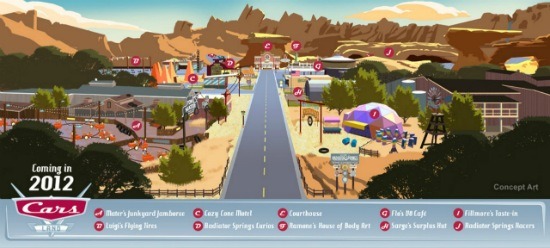 Whether you're a Disney superfan like our own Peter Sciretta or more a casual admirer like myself, it's hard not to get extremely excited when a whole new world is opening up at one of their theme parks. The next one up is Cars Land, based on the popular Pixar films, which is scheduled to open this June at Disney California Adventure. Though plenty of information has been released about some of the rides and other attractions, a video has now come online featuring Disney Imagineers discussing the creation of this whole new world.
After the jump with a 12-minute making of video for Cars Land.
The blog Disney and More posted the below video, which is now playing as part of an exhibit at the Blue Sky Cellar at Disney California Adventure called Road to Cars Land.
Pretty awesome. I know I'll be checking it out this summer.
Here's all the official information released on Cars Land from the Disney California Adventure website:
Attractions
Ready for some high-octane fun? Cars Land comes fully loaded with thrills and excitement:
Buckle up at Radiator Springs Racers and compete with other speed seekers! Zip over hills, zoom around banked turns and cruise down straight-aways past the spectacular red-rock formations of Ornament Valley. Some of your favorite friends, like Sally, Luigi, Guido, Mack and Ramone, can be seen at the track.
Climb aboard Mater's Junkyard Jamboree and enjoy a "tow"-rific ride. Baby tractors pull a Junkyard cart — with you in it — that gets twirled in time to the tunes broadcast through the magnificent Mater's Junkyard Jukebox.
Steer yourself to Luigi's Flying Tires and take family fun to a whole new level: into the air! Glide, spin and find yourself lifting off the ground while you pilot your own comfortable, oversized radial tire.
Dining
Running on empty? Fill 'er up! These sustenance stations are run by some of your favorite "Car"-acters:
Find full meals and good eats at Flo's V8 Café.
For quick and tasty snacks, motor over to the Fillmore's Taste-In.
Cozy Cone Motel offers a festive and "pun" menu, like chili "cone" queso, "cone" on the cob, pop-"cone" and (no joke) churros!
Entertainment
Small-town hospitality flows from Radiator Springs and brings good times to you!
Red the Fire Truck brings impromptu water fun at the Courthouse in Cars Land.
DJ gets you hip-hoppin' with bass beats that are pumpin' through his neon-blazin', thumpin' subwoofers and sweet speakers.
Don't miss the transformation of Radiator Springs at sunset when the streets shimmer from sparkling lights and music pulses through the night air.
Shopping
Before you hit the road, stop by and stock up on Radiator Springs gear, including official Cars Land merchandise, at:
Radiator Springs Curios
Ramone's House of Body Art
Sarge's Surplus Hut
On your marks...get set.... The starting flag for Cars Land officially drops at the expanded and newly re-imagined Disney California Adventure Park in the summer of 2012! Can't wait? "Drive" over to the Disney Parks Blog and the Disney California Adventure Park Facebook page to keep up to speed with the latest news, updates and previews.