Watch The First 10 Minutes Of 'The FP'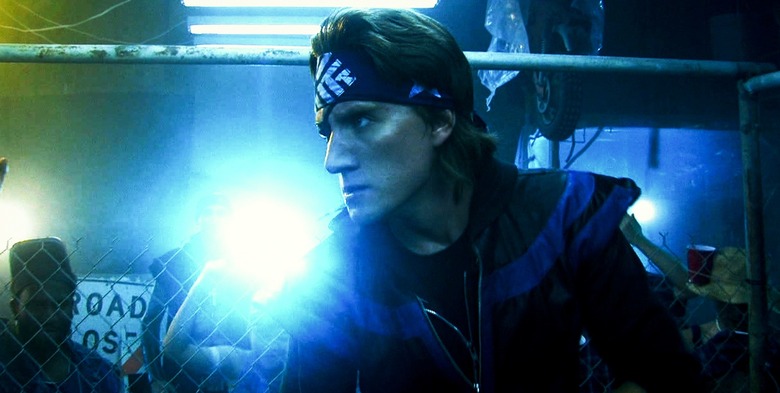 The FP has been on our radar for almost a year when it first premiered at South by Southwest 2011. The 2012 version of that festival is now just around the corner and, finally, the Trost Bros' Dance Dance Revolution action comedy is getting a proper release on March 16 ( you can get the full theater list here.) If you're still on the fence as to whether this wild film is for you, click below and watch the first 10 minutes of the movie.
Here's the first ten minutes of The FP.
Here's the official plot description:
In a dystopian future, arelentless turf war rages. Two rival gangs feud for control of rural wasteland Frazier Park ('The FP') in the deadly arena of competitive dance-fight video  game "Beat-Beat Revelation." After hometown hero BTRO is slain on the dance platform by thug leader L Dubba E, his protégé younger brother JTRO (Jason Trost) goes into isolation, vowing never to duel again. One year later, The FP is in ruins, and JTRO must find the courage to return and restore order in a ruthless battle for revenge that can only leave one man dancing. From the producers of PARANORMAL ACTIVITY and featuring narration by James Remar (THE WARRIORS), THE FP is a fury of fierce footwork, triumphant montages and neon street wear that Moviefone calls "a rare ready-made cult hit."
When I first heard the above plot of The FP, it sounded like something right up my alley. And though I've heard mixed reviews ever since it first premiered, I've successfully manage to miss several opportunities to see it for myself. That'll likely change soon but this 10 minutes certainly does a good job of giving me something to quench my anticipation. Not to mention, it's Drafthouse Films, who are doing a bang up job of releasing great films no one else has the balls to touch: Bullhead, Four Lions, Klown, etc.
What did you think of this clip? Are you going to check out The FP?