Mondo Will Release The 'Drive' Soundtrack On Vinyl; See Great Neon Posters For The Film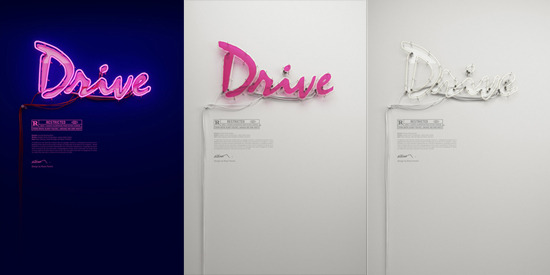 For some music lovers, vinyl LPs never stopped being an ideal way to listen to music. Stick to CDs or MP3s if you like, but I'll continue to nurture my own enthusiasm for the large cover art and physical interaction with LPs. Last year, I reluctantly bought a digital copy of the score for Nicolas Winding Refn's movie Drive, but would have much rather been able to purchase an LP pressing with the moody cues from Cliff Martinez.
Last week the UK label run by Geoff Barrow of Portishead announced that it would release the Drive OST on vinyl, and now Mondo has chimed in with plans to release a 2-LP edition of the Drive OST in the US. No need to pay the import price!
Oh, and as a bonus, the Mondo release will have new cover art by Tyler Stout. Details are below, along with a nifty trio of neon-inspired posters (unrelated to the LP release) for the film.
To date, Mondo has released one LP: a limited run of Jay Chattaway's score for the exploitation thriller Maniac. I've got that pressing, and it is a great release. So I have high hopes for this second offering.
For those who have been frustrated by attempts to get limited-edition products from Mondo in the past, it seems like this Drive release may not be limited. (There will be a limited-edition poster release, likely of the Tyler Stout artwork, timed to coincide with the LP drop, however.)
Here's the Drive LP info straight from Mondo:
Mondo is very proud to announce the release of the Drive soundtrack on vinyl for the first time in America. Regarded as one of the best soundtracks of 2011, the album is propelled by Cliff Martinez's original score, plus songs by Kavinsky, Desire, Chromatics, and more. Mondo will be utilizing the talents of Tyler Stout for cover and package design, and will also be releasing a limited edition screenprinted poster to celebrate the occasion.
The 2xLP will be released in the US in June of 2012. Follow @Mondonews on Twitter for more information.
Meanwhile, Belgian artist Rizon Parein has created a triptych of Drive posters featuring a 3D pink neon sign recreating the popular rendering of the film's logo. These are totally unrelated to any Mondo release, but they've been floating around for a few days (thanks to Rope of Silicon) and are worth checking out.