'The Amazing Adventures Of Spider-Man' Ride To Relaunch March 8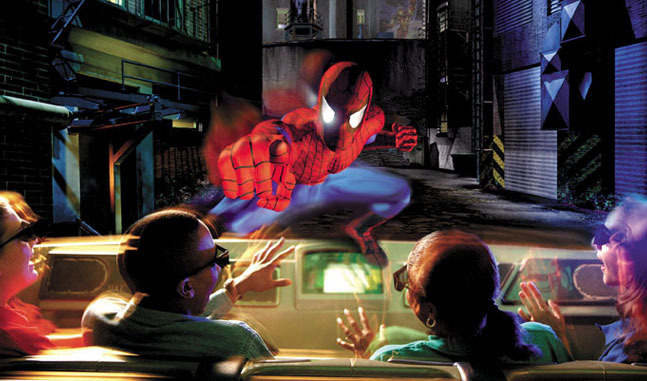 Before Disney bought Marvel, the main place to find superheros like Hulk and Spider-Man in a theme park was Island of Adventure at Universal Studios Orlando. Doctor Doom's Freefall, the Incredible Hulk Coaster and The Amazing Adventures of Spider-Man 3D Experience were among the most popular rides at the park. However, advances in digital projection and 3D technology had left the latter looking dated in recent years and last year it was announced the ride would get a substantial upgrade.
That upgrade goes into full effect March 8 with a grand reopening including enhancements to the film portion of the ride as well as huge technical upgrades. Read about them all after the jump.
According to The Disney Blog, some of the upgrades on The Amazing Adventuers of Spider-Man are as follows:
Legendary comic book icon and Spider-Man co-creator Stan Lee makes a cameo appearance in the new film animation.
Universal claims the action is more life-like than ever and that guests will actually see the movement of the characters' muscles and the changes in their facial expressions. (Some examples are "flames shooting from Hobgoblin's pumpkins to the electricity arching through Electro's body to the stitching on Spider-Man's glove."
The enhanced attraction features a new original music score. It is the same Spider-Man theme you love – with a rockin' twist.
The ride vehicle audio system has been upgraded from 8-channel to 16-channel so riders will be even more immersed in the action. Guests will experience 3-D sound quality.
The film will also be shown with 4K digital projection and the 3D glasses are spider-themed.
Here's the first glimpse at some of the changes. If you want to see more, you can head to the official site and "Like It" to unlock more.
Having never been to Islands of Adventure, I never rode the earlier version of The Amazing Adventures of Spider-Man. However, having recently been on two similar rides — The Simpsons Ride at Universal Studios Hollywood and Star Tours: The Adventures Continue at Disneyland –  the advances in tech between when Simpsons opened in 2008 and Star Tours reopened in 2011 are staggering. Today, Simpsons already looks incredibly dated. Obviously Spider-Man, which opened in 1999, was probably much worse.
Are you a fan of this ride? Excited for the upgrades?