The Alamo Drafthouse Celebrates The Summer Of '82, And /Film Co-Hosts A Screening Of 'E.T.: The Extra-Terrestrial'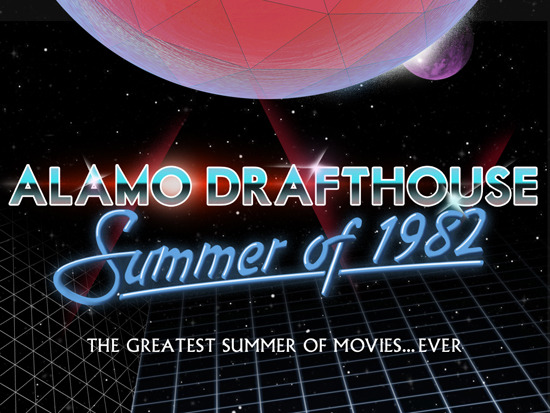 After giving the matter much thought, folks at the Alamo Drafthouse in Austin, TX have decided that the summer of 1982 is perhaps the best summer in history for big, fun movies. That's a difficult point to argue, given that the summer saw the release of Conan the Barbarian, The Thing, Poltergeist, The Road Warrior, Star Trek II: The Wrath of Khan, and more.
The Alamo Drafthouse has decided to recreate the release schedule of that summer, and starting on May 11 will be screening the big films of the Summer of '82 in 35mm, on the weekends corresponding to their original release date.
The company is partnering with a collection of movie websites to co-host each of the screenings, and on June 8, /Film will co-host a screening of Steven Spielberg's enduring 'boy meets alien' classic E.T.: The Extra-Terrestrial. I'm excited to have the chance to introduce one of Spielberg's signature movies.
Get all the info on the current screening schedule below, and see a great trailer created to announce the program.
First, the trailer, created by Tommy Swenson:
Here's the screening schedule as it currently stands. These screenings will all take place at the Alamo Ritz in Austin. Other Drafthouse theaters may add Summer of '82 screenings in the coming weeks. (There are many, many more great movies from the summer of '82, such as Fast Times at Ridgemont High, Creepshow, and The Dark Crystal, so hope for additional screenings.) You can get more info at drafthouse.com/1982.
May 11 – CONAN THE BARBARIAN
May 18 – THE ROAD WARRIOR
May 25 – ROCKY III
June 1 – POLTERGEIST
June 3 – STAR TREK II: THE WRATH OF KHAN
June 8 – E.T.
June 22 – THE THING
TBA – BLADE RUNNER*
July 6 – TRON
*Note, the Alamo programming team is working hard to schedule the sci-fi opus BLADE RUNNER. Watch for updates via @drafthouse and Facebook.com/AlamoDrafthouse.
Here's the teaser poster for the event, created by Luther Himes. Note that this is not a print to be sold by Mondo, but there will be exclusive Mondo posters produced for some screenings. Last year at Comic Con we heard that Mondo had the license for Conan, and since that film is the opening screening, it's a good bet that we'll see a poster for that film, at least.