Brian Kirk In Talks To Direct 'The Osterman Weekend'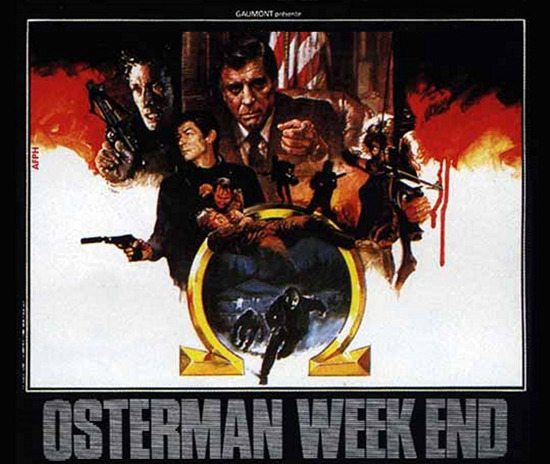 The other way to write the headline for this story would be "Game of Thrones Director to Remake Sam Peckinpah Film." But even the most ardent Peckinpah fan — and I'm pretty damn ardent — isn't going to yell very loud to claim Peckinpah's adaptation of the novel by Robert Ludlum as one of the director's fairer works.
In fact, if there's a Peckinpah film that begs for a remake it might be this one. The director was unhealthy and nearly outcast from the film industry when he was hired to give the original production some action cred. But he hated the script (so did the screenwriter, supposedly) and wanted to rewrite it. After the producers forbade that, Peckinpah made the movie but delivered a cut that test audiences and the producers detested. He was fired, the movie was re-cut without him, and the result is nothing that anyone is too eager to highlight on their resume.
So now Brian Kirk, the Game of Thrones director who was originally tapped to direct Thor 2 for Marvel, is in talks to direct a new version of the story about a guy who is told that his friends are actually enemy spies.
Deadline says that Kirk would direct from a script by Simon Kinberg and Jesse Wigutow, and offers a synopsis that is as good as any other:
On the eve of an annual weekend getaway with friends, John Tanner is visited by a reporter who tells him his friends aren't who he thinks they are. When the reporter turns up dead, Tanner gets caught in downward spiral of doubt and paranoia and, ultimately, a desperate fight to stay alive long enough to figure out who he can trust and who's out to kill him.
The book is prime cold-war stuff, but I don't know if the current script retains the original setting, or if it has been turned into a contemporary story.
Kirk has a couple other films in the pipeline, too: Paper Wings, which could star Tom Cruise, and Midnight Delivery, for producer Guillermo del Toro.
Here's the trailer for the original version of The Osterman Weekend. It gives up a lot more plot than the synopsis above, just be warned: