'American Reunion' Theatrical Trailer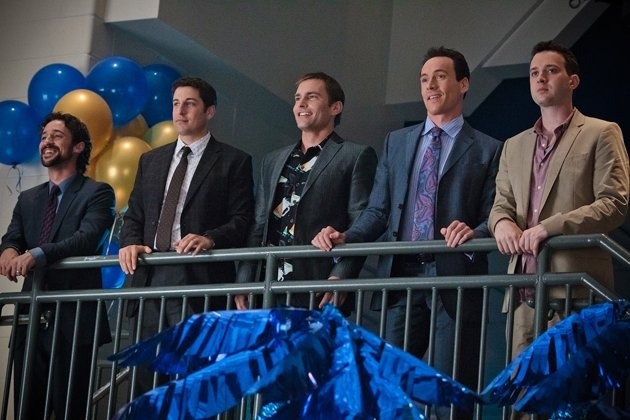 Even before the summer movie season begins, the spring holds a ton of highly anticipated movies: John Carter, 21 Jump Street, The Hunger Games, A Cabin in the Woods and, of course, the fourth American Pie film, American Reunion. Scheduled for release April 6, a new trailer for that comedy has just come online.
The film features the entire cast of the 1999 original (Jason Biggs, Alyson Hannigan, Chris Klein, Thomas Ian Nicholas, Tara Reid, Seann William Scott, Mena Suvari, Eddie Kaye Thomas, Jennifer Coolidge, Eugene Levy, Natasha Lyonne and Shannon Elizabeth among others) to tell the story of what happens when they're all back in town for a long overdue high school reunion. Early buzz has been very positive.
Check out the new trailer for the film, written and directed by Jon Hurwitz and Hayden Schlossberg, below.
Thanks to Yahoo Movies for the trailer.
I'd give you my thoughts on this trailer but I can't. This series holds such a nostalgic piece of my heart and I'm so pumped for the film, I've so far avoided every single image and video. I'm not about to start now. Though I'm sure it'll sneak up on me while watching TV.
Here's the official plot description:
In the comedy American Reunion, all the American Pie characters we met a little more than a decade ago return to East Great Falls for their high-school reunion.  In one long-overdue weekend, they will discover what has changed, who hasn't and that time and distance can't break the bonds of friendship.
It was summer 1999 when four small-town Michigan boys began a quest to lose their virginity.  In the years that have passed, Jim and Michelle married while Kevin and Vicky said goodbye.  Oz and Heather grew apart, but Finch still longs for Stifler's mom.  Now these lifelong friends have come home as adults to reminisce about—and get inspired by—the hormonal teens who launched a comedy legend
Be my eyes and ears, how does the trailer look?