'Wonder Women! The Untold Story Of American Superheroines' Trailer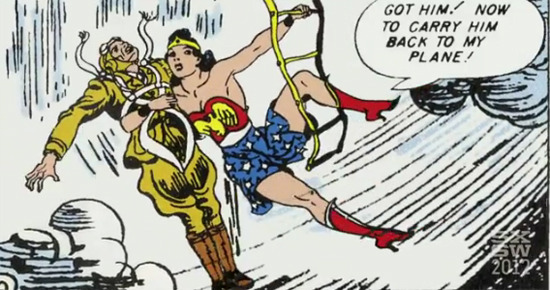 Wonder Woman has had a difficult time on screens lately, with a feature film taking seemingly forever to develop, and a TV version dying on the vine. And, in general, the concept of the heroine isn't quite as rigorously explored as is the idea of the male superhero.
But the cinematic heroine is still a powerful figure. A new documentary looks at the birth of the superheroine, and the development of the popular image of the powerful woman. Wonder Women! The Untold Story of American Superheroines will premiere at SXSW in the next few weeks, but we've got the trailer for the doc below.
So this isn't just a doc about Wonder Woman, but a more ambitious look from Kristy Guevara-Flanagan at how that character influenced multiple generations of women and storytellers.
(Oh, and the good little song that's at the end of the trailer after the low-in-the-mix use of Bikini Kill's 'Rebel Girl'? That's 'Ladyflash' by The Go! Team.)
WONDER WOMEN! THE UNTOLD STORY OF AMERICAN SUPERHEROINES traces the fascinating evolution and legacy of Wonder Woman. From the birth of the comic book superheroine in the 1940s to the blockbusters of today, WONDER WOMEN! looks at how popular representations of powerful women often reflect society's anxieties about women's liberation. WONDER WOMEN! goes behind the scenes with Lynda Carter, Lindsay Wagner, comic writers and artists, and real life superheroines such as Gloria Steinem, Shelby Knox and others who offer an enlightening and entertaining counterpoint to the male dominated superhero genre.