Watch The Full Pilot Episode Of 'Lone Star' Creator Kyle Killen's Split-Reality Drama 'Awake', Starring Jason Isaacs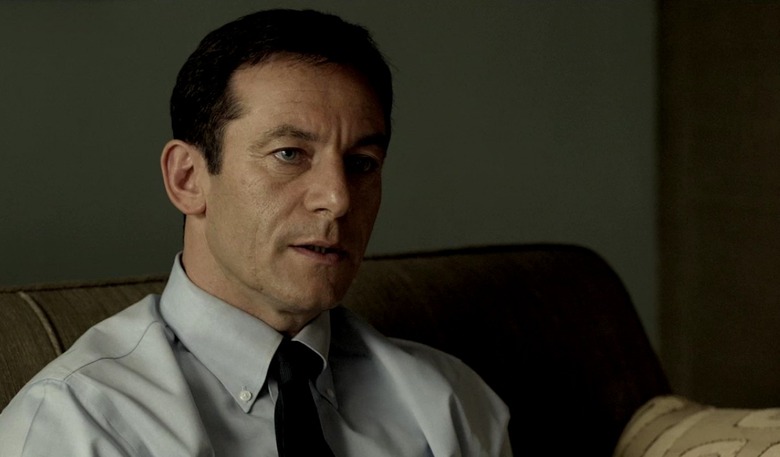 If you liked what you saw when NBC posted the first seven minutes of the first episode of Awake earlier this week, you can now watch the other thirty-six. The network has released the entire pilot online for free, weeks in advance of its March premiere date.
Created by Kyle Killen (of the critically adored but amazingly short-lived Lone Star), the drama stars Jason Isaacs (Lucius Malfoy from the Harry Potter series) as a police detective who survives a devastating car accident to find that his life has been split into two realities. In one, his wife (Laura Allen, Terriers) survived the crash while his son (Dylan Minnette, Lost) perished; in the other, the reverse is true. Wilmer Valderrama, Steve Harris, Cherry Jones, B.D. Wong, and Michaela McManus also star. Watch the full-length episode after the jump.
[via Coming Soon]
NBC's not the first network to try this marketing move — to name a couple of examples, Fox did a similar thing this past fall with New Girl, to great success, and Showtime's posted the season premieres of several of its shows for free — and I have to say, I'm loving this trend. Viewers get to sample a promising new series in their own time, while the network gets an opportunity to build some early buzz. Everyone wins!
Awake will kick off Thursday, March 1 at 10:00 PM on NBC.
Synopsis:
Lots of people find themselves leading some kind of double life... but none quite like this.
After Detective Michael Britten wakes up from a car accident with his wife and teenage son, he learns the devastating news that his wife died in the crash. Trying to put the pieces of his life back together, he wakes up a few days later to realize that his wife is very much alive and his son died in the accident! Did he lose his wife or his son? Or neither of them??
What if your life split in two in the face of a situation like this, and you could actually have everything you wanted, just not all at the same time? Michael goes back to work solving crimes while trying to put things back on a "normal" track, but alternating between realities provides some challenges – one moment he and his wife are grappling with having another child to replace their loss, and the next moment he's finding himself attracted to his son's tennis coach to fill the void from the loss of his wife. At the same time, he is solving crimes in each world which sometimes overlap in fascinating and inexplicable ways. Is he dreaming or going mad? Michael begins seeing two different therapists to help him sort things out, but then again why would he want either "reality" to go away when the totality of both means having his family complete?
From groundbreaking writer Kyle Killen (Lone Star) and starring Jason Isaacs (Brotherhood, Harry Potter) comes a drama about the power of the mind, where the inception of life is a mystery and reality might just be overrated.