Alamo Drafthouse Details Plans To Restore San Francisco's New Mission Theater; Founder Tim League Explains The Company's Origins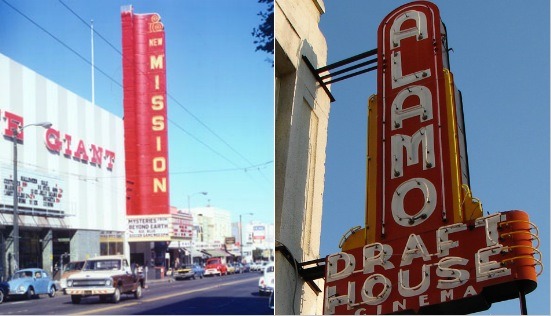 Earlier this week we told you that plans seem to be afoot for the Austin Texas-based Alamo Drafthouse Cinemas to purchase and restore the New Mission Theater in San Francisco. The theater is a registered landmark that closed for business in 1993.
And, yes, Alamo Drafthouse founder and CEO Tim League recently made a deal to restore the theater and operate the reinvigorated space as an Alamo Drafthouse location. Read on for details on the renovation plan, direct from League.
In a blog post on drafthouse.com, Tim League explains,
We are planning on a full and complete historic renovation.  Even though our plan is to subdivide the balconies into small boutique theaters, we will be doing it in such a way as to preserve nearly all of the amazing architectural details of the space.  We would still preserve the massive downstairs screen and transform that space into a potential premiere venue with state of the art sound and picture.  We have been working hand-in-hand with the both historic and neighborhood groups to make sure that our restoration plans meet with their approval.  The great news is that the theater interior is largely in good shape.  A large percentage of the interior details have been preserved and even most of the light fixtures are intact.
Speaking of programming, our intention is to operate this much like our flagship Ritz Theater in Austin, Texas.  The Ritz was also a historic renovation, where we turned the defunct 1929 single-screen movie palace into a 2-screen Alamo Drafthouse venue.  We will be featuring a mix of classic film programming, our unique alternative content and live events, foreign films, independent films as well as some studio films.  Just like in Austin, we will be eager to partner with any and all film festivals and film appreciation groups who are interested and will be making the space available to neighborhood schools and community groups.  We will be hiring a local San Francisco programming staff when we get closer to opening , so like-minded movie nerds please stay tuned, we will be hiring!
Many steps remain before the theater will re-open, as permitting and planning still has to be finished, followed by the actual construction and restoration of the theater. A Facebook page has been set up for the project, so you can keep an eye on that for updates. The page has some photos of the theater in its current condition.
And while we're on the subject of the Alamo Drafthouse, this is a good time to point out that Tim League recently gave a talk at Google, and the hour-long talk was captured on video. In the full talk, embedded below, League discussed the full history of the Alamo Drafthouse, from his first venture as a theater owner in Bakersfield, CA to the move to Austin that eventually led to the company that we know and respect today. It's a great talk that does a lot to explain just what League's company is all about, but is also an inspiring account of how persistence (and luck) can bring a uniquely personal company into the world, and allow it to thrive.