Jennifer Aniston And Dennis Quaid Added To Elmore Leonard Adaptation 'Switch'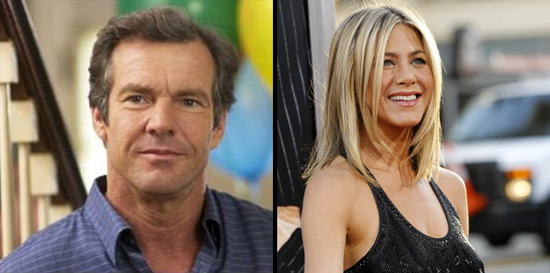 We may receive a commission on purchases made from links.
We've been calling Switch a prequel to Jackie Brown, because both films are based on novels by Elmore Leonard, and Switch will feature the characters Louis Gara and Ordell Robbie, originally played by Robert De Niro and Jackson in Quentin Tarantino's Jackie Brown.
John Hawkes and Yasiin Bey (formerly Mos Def) play the two guys in this film, and they were recently joined by Ty Burrell. Now the cast has also added Dennis Quaid and Jennifer Aniston as two of the story's most important characters.
So the Elmore Leonard novel The Switch has Louis and Ordell deciding to kidnap a woman named Mickey Dawson (Aniston) who is married to a shady real estate developer (Quaid). But the guy doesn't really want his wife back and refuses to pay Louis and Ordell's ransom demands. So they end up teaming up with the now very angry wife to scam all of the husband's dough. (Yeah, there's a plot similarity to Ruthless People, which was made eight years after this original novel was published.)
The Switch isn't exactly a prequel to Rum Punch, the novel that became Jackie Brown, because the story in one doesn't much affect the story in the other; it's just that the two books have Louis and Ordell in common. Fair enough.
Switch was scripted by Dan Schechter and he'll direct as well. The script has kind of an interesting history as Schechter wrote it as a spec, but Leonard ended up really liking the draft and became a producer on the film.
Here's the Amazon description of the novel:
Ordell Robbie and Louis Gara hit it off in prison, where they were both doing time for grand theft auto. Now that they're out, they're joining forces for one big score. The plan is to kidnap the wife of a wealthy Detroit developer and hold her for ransom. But they didn't figure the lowlife husband wouldn't want his lady back. So it's time for Plan B and the opportunity to make a real killing — with the unlikely help of a beautiful, ticked-off housewife who's hungry for a large helping of sweet revenge.
[Deadline]