Dwayne Johnson Says 'Fast Six' Gearing Up For May Start, Won't Shoot Back-To-Back With 'Fast Seven'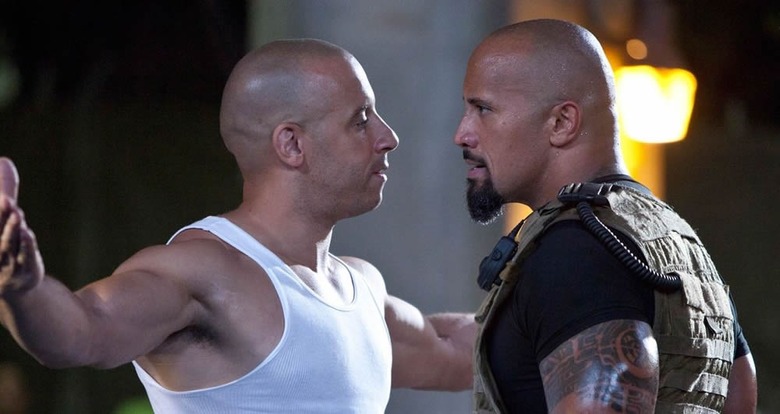 With the smashing success of last year's Fast Five, Universal's been eager to keep moving forward with its popular Fast and the Furious franchise. A Fast Six was in the works before Fast Five even hit theaters, and for the past several months the rumor's been that Fast Six and Fast Seven would tell an interconnecting story and shoot back-to-back this year.
But as so often happens in Hollywood, it seems things may have changed. According to the series' newest superstar lead, Dwayne Johnson, Fast Six is gearing up for a May start — but Fast Seven won't get going for a little while yet. Read his comments after the jump.
"I don't think we're going to shoot them back-to-back," he said. "We were going to try that because it wouldn't make sense to have the same crew and have everybody there in one place, but I think we're dealing with some weather issues, so from what I know we're going to shoot Fast 6 first and then worry about Fast 7 a little later."
Johnson did not indicate whether that meant the two movies would still share a linked storyline, as previously suggested, or whether they'd be standalone plots. He did, however, spill about some of the exotic locales we could expect to see in the coming films. "We're going to be in the U.K., we're going to be in Germany, from what I know," he revealed. "That's the early talks."
Johnson also told MTV that shooting on Fast Six was scheduled to begin in May. As previously reported, Fast Five (and Fast & Furious and The Fast and the Furious: Tokyo Drift) director Justin Lin is set to return to the helm. Franchise stars Vin Diesel, Paul Walker, Michelle Rodriguez, and Jordana Brewster will presumably reprise their roles.