/Film Exclusive: Watch The First Twelve Minutes Of 'Sound Of My Voice'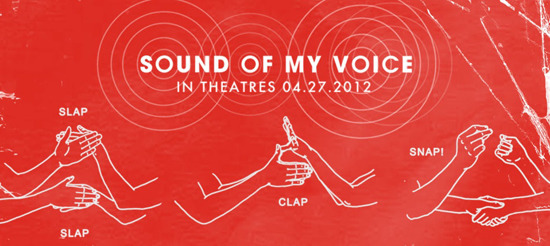 One of the most-praised films at the 2011 Sundance Film Festival was Sound of My Voice, starring and co-written by Brit Marling (Another Earth). The film, directed by Zal Batmanglij, follows a couple as they attempt to infiltrate and learn about a cult, led by a charismatic woman with a rather outrageous claim about her own history. Fox Searchlight picked up the film later in 2011, but has taken time to plan a release schedule.
Now, just more than two months out from release, those of us who weren't at Sundance in '11 are getting a taste of the film. A two-minute clip hit yesterday, and now we've got the first 'chapter' of the movie; that is, the opening twelve-minute segment. Have a look below. The footage will make sense out of the handshake iconography in the poster (seen above).
This embed has an unusual feature — during the clip, hotspots will appear that point to ideas and videos that are related, in some way, to what's happening on screen. Note that the clip may not be safe for work due to brief almost-nudity.
Fox Searchlight will release Sound of My Voice on April 27.
Peter and Lorna, a young Silver Lake couple, delve into the underworld of a cult that meets in the San Fernando valley. At the center of the group is an enigmatic young woman named Maggie who never leaves her basement chamber. The members follow Maggie blindly—growing her food, obsessively sanitizing the house, giving her their own blood for transfusions. But why? We follow Peter and Lorna as they smuggle hidden cameras into Maggie's basement bent on exposing her as a charlatan and freeing the members from her spell.