Watch The First Two-Minutes Of 'Sound Of My Voice'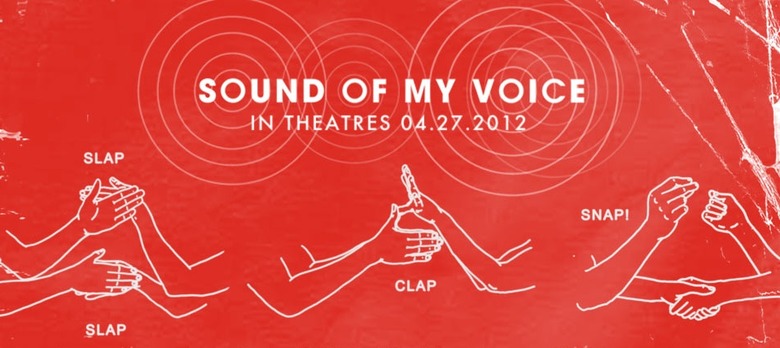 One of my favorite movies of the 2011 Sundance Film Festival was Zal Batmanglij's Sound of My Voice, a microbudget dramatic thriller which is about a couple who infiltrate a cult in the San Fernando Valley. But the story has a tiny bit of a science fiction as well — the leader of the group is a woman named Maggie (Brit Marling) who claims to be a time traveler from the year 2054. The couple sneak cameras into the cult hoping to expose her scam. You can read my lengthy review here (I've tried my hardest to keep it spoiler free). Fox Searchlight acquired the film sometime after last year's festival, and has been figuring exactly how to market and release such a unique movie.
As the April 27th 2012 release date approaches, Searchlight is beginning their marketing push. Today they have released the first two-minutes of the film as a clip on Apple.com — you can watch it after the jump. Tomorrow we will be exclusively be posting the entire first 12 minutes of the film (the entire first chapter of the story) before it is released on the official website later this week. So please, watch out for that.
2-Minute Preview Clip from Apple:
Official Plot Synopsis:
Peter and Lorna, a young Silver Lake couple, delve into the underworld of a cult that meets in the San Fernando valley. At the center of the group is an enigmatic young woman named Maggie who never leaves her basement chamber. The members follow Maggie blindly—growing her food, obsessively sanitizing the house, giving her their own blood for transfusions. But why? We follow Peter and Lorna as they smuggle hidden cameras into Maggie's basement bent on exposing her as a charlatan and freeing the members from her spell.
Poster: