Mattel Will Finally Release The Hoverboard From 'Back To The Future'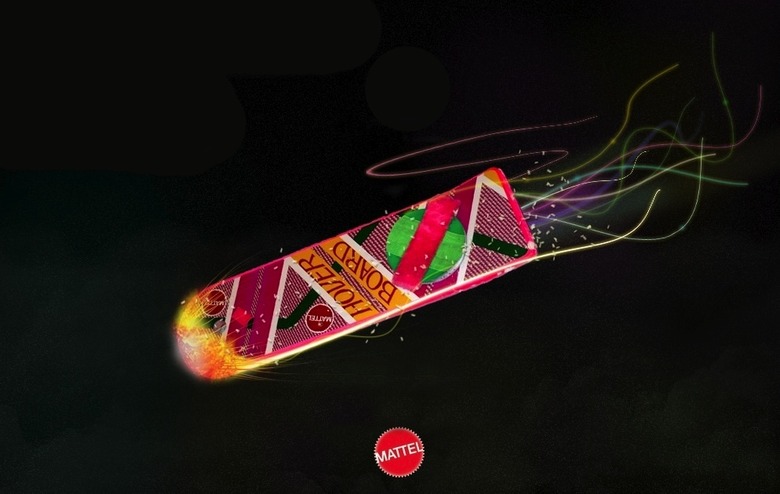 The year 2015 is coming up fast, and it seems like many of the future inovations seen in the future Hill Valley of Back to the Future: Part II have not come to pass — but I'm still hopeful that we'll all be in flying hovercars in just three years time (um, yeah). Last year, Nike finally produced a limited edition "preview" run of the self-lacing Nike MAG sneakers. I saw last week on Gizmodo that we're getting close to inventing the real-life Mr. Fusion. And this weekend at the New York Toy Fair, Mattel has finally announced the much anticipated release of the Hoverboard, a futuristic hovering skateboard that Marty McFly (Michael J. Fox) used in the Back to the Future sequels.
But before you get too excited, remember that just as when Nike released the limited edition sneaker run, they noted that the self-lacing technology wouldn't be ready until 2015, the same is true with hover technology — its just not quite ready for primetime just yet (although, its progressing fast).
The movie-accurate 1:1 Hoverboard replica will ship for Christmas 2012, with limited preorder in March. Here is the official description from the Mattel press release:
Back to the Future Hover Board: Finally! This totally awesome 1:1 replica of the hover board from the BTTF 2 and BTTF 3 films includes multiple whooshing sounds and will glide over most surfaces (does not actually "hover" – check back in 2015 for that feature). We'll be taking orders for it March 1 – March 20, 2012, and the final product will be shipped around November/December 2012. Because this is such a high-cost item, there will be a minimum number of orders required to go into production. If we don't receive the minimum orders, won't go into production and customers will not be charged. The price will be announced later this month. (Note: Hover board does not work on water.)
I've owned a replica hover board for years now, but I'm excited to get my hands on something more official looking. But I hope the final board looks a bit more official that the images that have leaked out of Toy Fair: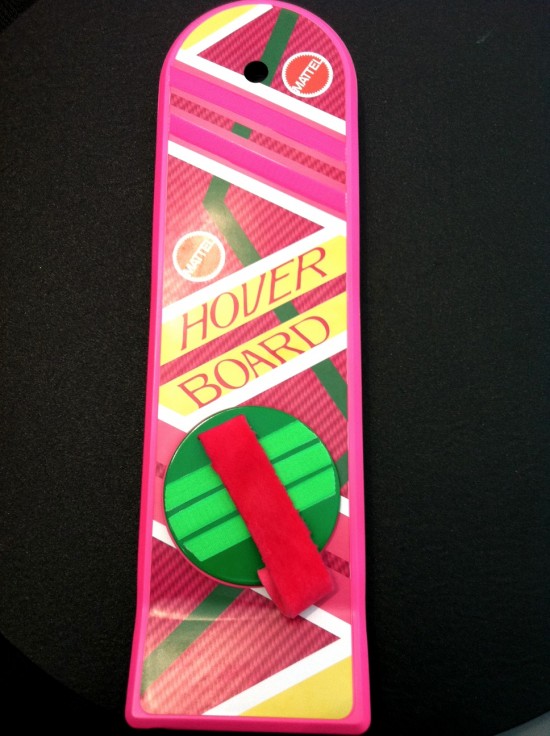 It's also worth noting that the banner advertisement on display at the convention (image thanks to ToyArk) features images of a hoverboard prop which was sold during a recent Profiles in History auction, which is a bit misleading.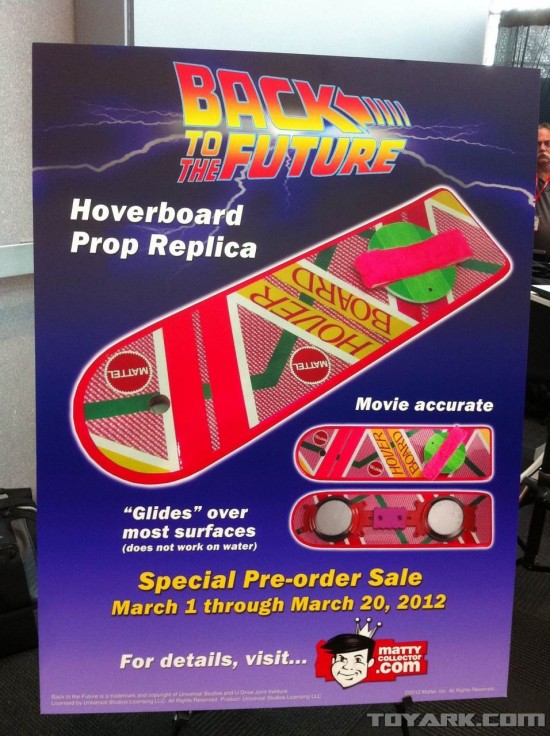 I'm also left a bit confused by the "glides over most surfaces" and " multiple whooshing sounds" features. I assume that most people that will preorder such an item will be using it for display purposes.  Considering the price will likely be in the hundreds of dollars (Mattel recently sold a Ghostbusters ghost trap replica for $135), I don't expect many people will be using the board as a toy. Lets hope that Mattel focuses on producing a quality display replica instead of an expensive toy.