'The Artist' Nearly Sweeps BAFTAs With Seven Major Awards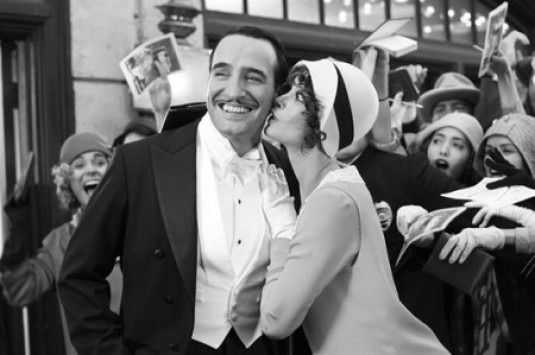 Meryl Streep prevented the cast and crew of The Artist from a total sweep of the major categories at this year's British Academy Film Awards, presented by the British Academy of Film and Television Arts (BAFTA) and commonly called the  BAFTAs. Streep won Best Actress for playing former British Prime Minister Margaret Thatcher in The Iron Lady, and The Artist took Best Film, Best Actor, Best Director, Best Original Screenplay, Best Cinematography, Best Original Music and Best Costume Design.
There were a few good winners for categories in between all those, and we've got the full rundown after the break.
Here's the list of categories and nominations, with winners bolded. Tinker Tailor Soldier Spy won a couple awards, but Best Actor slipped away from Gary Oldman. Good to see Paddy Considine's Tyrannosaur taking home a debut award, while the wins for Octavia Spencer, Christopher Plummer and Rango conform more or less to expectation.
BEST FILM
The Artist
The Descendants
Drive
The Help
Tinker, Tailor, Soldier, Spy
BEST ACTOR
George Clooney – The Descendants
Jean Dujardin – The Artist
Michael Fassbender – Shame
Brad Pitt – Moneyball
Gary Oldman – Tinker, Tailor, Soldier, Spy
BEST ACTRESS
Berenice Bejo – The Artist
Viola Davis – The Help
Meryl Streep – The Iron Lady
Tilda Swinton – We Need To Talk About Kevin
Michelle Williams – My Week With Marilyn
BEST DIRECTOR
Michel Hazanavicius – The Artist
Nicolas Winding Refn – Drive
Martin Scorsese – Hugo
Tomas Alfredson – Tinker, Tailor, Soldier, Spy
Lynne Ramsay – We Need To Talk About Kevin
BEST ANIMATED FILM
The Adventures of Tintin
Arthur Christmas
Rango
BEST ADAPTED SCREENPLAY
Jim Rash, Nat Faxon, Alexander Payne – The Descendants
Tate Taylor – The Help
George Clooney, Grant Heslov, Beau Willimon – The Ides of March
Steve Zaillian, Aaron Sorkin – Moneyball
Bridget O'Connor, Peter Straughan – Tinker, Tailor, Soldier, Spy
BEST ORIGINAL SCREENPLAY
Michel Hazanavicius – The Artist
Kristin Wiig, Annie Mumolo – Bridesmaids
John Michael McDonagh – The Guard
Abi Morgan – The Iron Lady
Woody Allen – Midnight In Paris
BEST DOCUMENTARY
George Harrison: Living In A Material World
Project Nim
Senna
RISING STAR AWARD
Adam Deacon
Chris Hemsworth
Tom Hiddleston
Chris O'Dowd
Eddie Redmayne
OUTSTANDING BRITISH CONTRIBUTION TO FILM
John Hurt
BEST SUPPORTING ACTOR
Kenneth Branagh – My Week With Marilyn
Jim Broadbent – The Iron Lady
Jonah Hill – Moneyball
Philip Seymour Hoffman – The Ides of March
Christopher Plummer – Beginners
BEST SUPPORTING ACTRESS
Carey Mulligan – Drive
Jessica Chastain – The Help
Judi Dench – My Week With Marilyn
Melissa McCarthy – Bridesmaids
Octavia Spencer – The Help
OUTSTANDING BRITISH FILM
My Week With Marilyn
Senna
Shame
Tinker, Tailor, Soldier, Spy
We Need To Talk About Kevin
BEST PRODUCTION DESIGN
The Artist
Harry Potter and the Deathly Hallows: Part 2
Hugo
Tinker, Tailor, Soldier, Spy
War Horse
BEST DEBUT BY A BRITISH DIRECTOR, WRITER OR PRODUCER
Richard Ayoade – Submarine
Paddy Considine, Diarmid Scrimshaw – Tyrannosaur
Joe Cornish – Attack the Block
Ralph Fiennes – Coriolanus
Will Sharpe, Tom Kingsley, Sarah Brocklehurst – Black Pond
BEST FILM NOT IN THE ENGLISH LANGUAGE
Incendies
Pina
Potiche
A Separation
The Skin I Live In
BEST COSTUME DESIGN
The Artist
Hugo
Jane Eyre
My Week With Marilyn
Tinker, Tailor, Soldier, Spy
BEST MAKEUP AND HAIR
The Artist
Harry Potter and the Deathly Hallows: Part 2
Hugo
The Iron Lady
My Week With Marilyn
BEST CINEMATOGRAPHY
The Artist
The Girl With the Dragon Tattoo
Hugo
Tinker, Tailor, Soldier, Spy
War Horse
BEST FILM EDITING
The Artist
Drive
Hugo
Senna
Tinker, Tailor, Soldier, Spy
BEST SOUND
The Artist
Harry Potter and the Deathly Hallows: Part 2
Hugo
Tinker, Tailor, Soldier, Spy
War Horse
BEST ORIGINAL MUSIC
Ludovic Bource – The Artist
Trent Reznor & Atticus Ross – The Girl With the Dragon Tattoo
Howard Shore – Hugo
Alberto Iglesias – Tinker, Tailor, Soldier, Spy
John Williams – War Horse
BEST VISUAL EFFECTS
The Adventures of Tintin
Harry Potter and the Deathly Hallows: Part 2
Hugo
Rise of the Planet of the Apes
War Horse
BEST SHORT ANIMATED FILM
Abuelas
Bobby Yeah
A Morning Stroll
BEST SHORT FILM
Chalk
Mwansa The Great
Only Sound Remains
Pitch Black Heist
Two And Two