Billy Connolly Is The Final Addition To The Cast Of 'The Hobbit'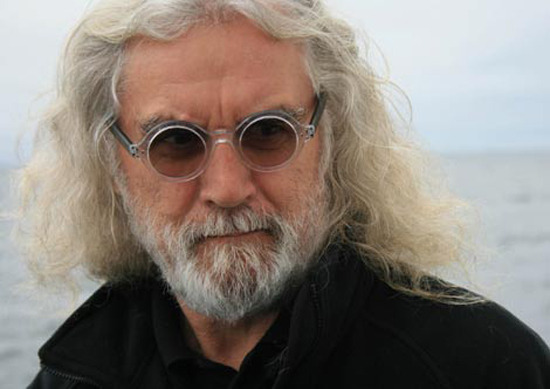 The cast of Peter Jackson's two Hobbit films, The Hobbit: An Unexpected Journey and The Hobbit: There and Back Again, is huge. Like, really, tremendously huge. They actors are all listed at the bottom of the post, but the point is that, after months of shooting, the cast isn't quite big enough. Jackson has just added the man who will seemingly be the last on the roster: Scottish actor and comedian Billy Connolly. He'll play Dain Ironfoot, a Dwarf warrior.
THR reports the casting, but doesn't say if Connolly will appear in An Unexpected Journey, which hits theaters on December 14 of this year, or only in There and Back Again.
The character has only a small part in the novel The Hobbit. He's the second cousin of Thorin Oakenshield (Richard Armitage), the Dwarf who assembles the adventuring company that recruits Bilbo Baggins (Martin Freeman) for a quest to reclaim his family's ancient treasure from the winged worm Smaug (Benedict Cumberbatch). Ironfoot plays a part in the climactic Battle of Five Armies at the end of The Hobbit, and so it is possible that he'll only show up in the second of the two films.
Jackson told the trade,
We could not think of a more fitting actor to play Dain Ironfoot, the staunchest and toughest of Dwarves, than Billy Connelly, the Big Yin himself. With Billy stepping into this role, the cast of The Hobbit is now complete. We can't wait to see him on the Battlefield!
In addition to the actors mentioned above, the rest of the cast of the two films includes: Ian Holm, Ian McKellen, Graham McTavish, Ken Stott, Aidan Turner, Dean O'Gorman, Mark Hadlow, Jed Brophy, Adam Brown, John Callen, Peter Hambleton, William Kircher, James Nesbitt, Stephen Hunter, Christopher Lee, Elijah Wood, Orlando Bloom, Evangeline Lilly, Andy Serkis, Hugo Weaving, Mikael Persbrandt, Lee Pace, Stephen Fry, Cate Blanchett, Sylvester McCoy, Jeffrey Thomas, Mike Mizrahi, Bret McKenzie, Ryan Gage, Barry Humphries, Conan Stevens, Luke Evans, and John Bell.