See The Amanda Seyfried 'Deep Throat' Poster Remake From 'Lovelace,' Plus New Images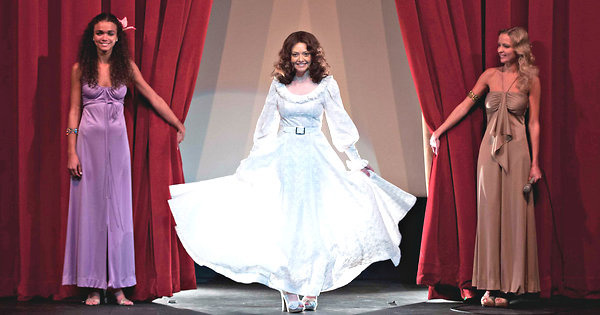 The hook for the film Lovelace is pretty simple: Amanda Seyfried plays the first crossover porn superstar, Linda Lovelace. Shouldn't be difficult to sell a movie based on that idea, alone, but there is something fairly uncomfortable about the prospect. Linda Lovelace later said that much of her porn work was coerced by her abusive husband Chuck Traynor, played in this film incarnation by Peter Sarsgaard. It's not the sort of tale that can be represented on sex appeal alone, lurid and easy as that would be.
And, yes, the movie that Howl directors Rob Epstein and Jeffrey Friedman are putting together sounds like it will be a fairly dark affair. It takes primary inspiration from Eric Danville's biography The Complete Linda Lovelace, which traces her progression from unknown to unlikely mainstream icon, to anti-porn activist. The film is still shooting and so we won't likely see any footage for a couple months yet, but in the meantime we've got a couple new stills from the film, and a recreation of the poster for Deep Throat, featuring Seyfried in character.
The images come via the New York Times, which ran a large feature on the film this weekend. It describes how the tone of the film became an issue during casting:
Casting proved an overall challenge for "Lovelace": women were concerned about the nudity and the brutality, while the agents of male performers withheld the script, written by Andy Bellin, from their clients. "They read it," said Heidi Jo Markel, a "Lovelace" producer, "and they said, 'I wouldn't give it to our actor, because he'd do it, and we're scared.' "
That's heartening in a way, because this isn't a story that should be given a glossy sheen.
There is also attention given in the NYT feature to Matt Wilder's competing Lovelace bio, called Inferno. (Inferno features Malin Akerman in the lead, and Matt Dillon as Traynor.) Markel was originally a producer on that film but left in part because she said the script was too dark and oppressive. Wilder, meanwhile, says "I think it is quite a wonderful piece of hyperbole to be told your film is too dark to be a movie."
Lovelace also features Sharon Stone, Juno Temple, Wes Bentley, Hank Azaria, Bobby Cannavale, Chris Noth, Robert Patrick, James Franco, Eric Roberts, Adam Brody, Chloe Sevigny and Sarah Jessica Parker.