'Battleship' Super Bowl Spot: Heavy Action, And An Alien Encounter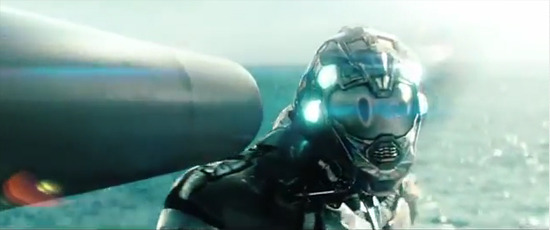 Battleship is the film in which director Peter Berg worked in full-on Michael Bay mode, with Taylor Kitsch, Rihanna and Alexander Skarsgard as crew members on a US Navy ship stuck inside a force field erected by some force that has its eye on Earthly resources. We've seen a couple trailers for the film that introduced the film's basic scenario, and showed some of the tech of the attacking force. (We've been calling them aliens, but we don't actually know what the enemies in the movie really are.)
A new one-minute Battleship spot ran tonight during the Super Bowl, and while it recycles a lot of the footage from the first couple trailers, it does offer some new images of the enemy footsoldiers, including what seems to be a showdown between one of the Hal0-like characters and a cannon that should blow it to pieces. Why do I suspect that's not how this encounter ends?
Check out the spot below.
Battleship opens on May 18 2012.
Peter Berg (Hancock) produces and directs Battleship, an epic-scaled action-adventure that unfolds across the seas, in the skies and over land as our planet fights for survival against a superior force.  Inspired by Hasbro's classic naval combat game, Battleship stars Taylor Kitsch as Lt. Alex Hopper, a Naval officer assigned to the USS John Paul Jones; Brooklyn Decker as Sam Shane, a physical therapist and Hopper's fiancée; Alexander Skarsgård as Hopper's older brother, Stone, Commanding Officer of the USS Sampson; Rihanna as Petty Officer Raikes, Hopper's crewmate and a weapons specialist on the USS John Paul Jones; and international superstar Liam Neeson as Hopper and Stone's superior (and Sam's father), Admiral Shane. Berg directs this epic action-adventure also produced by Scott Stuber (Couples Retreat), Sarah Aubrey (The Kingdom), Brian Goldner and Bennett Schneir of Hasbro (the Transformers franchise), along with Duncan Henderson (Master and Commander) and Jeffrey Silver (300).  The film is written by Jon Hoeber & Erich Hoeber (Red). The battle for Earth begins at sea..