Kevin Smith Talks 'Hit Somebody' And Reveals 'Jay And Silent Bob's Super Groovy Cartoon Movie'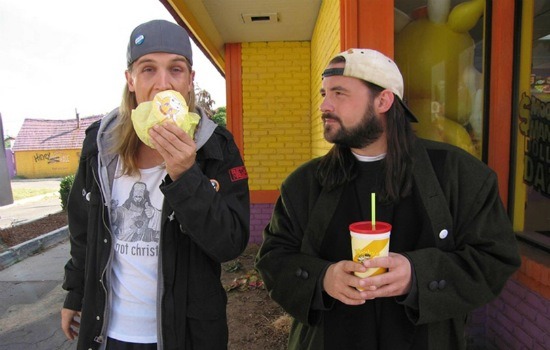 Thursday night, Kevin Smith invaded multiplexes with a simulcast of Kevin Smith: Live from Behind. The event featured the Clerks filmmaker and his hetero life mate Jason Mewes doing their podcast, Jay and Silent Bob Get Old, followed by an extended question and answer session. As usual, the Q&A featured Smith revealing all sorts of information on his upcoming projects.
He dropped a few more nuggets about Hit Somebody, such as its proposed budget and updated release schedule, and even formally announced a new movie called Jay and Silent Bob's Super Groovy Cartoon Movie, which will blend live action and R-rated animation. All the details are after the jump.
We'll start with the newer project. A few weeks ago when Smith formally announced that Smodcast Pictures was teaming with Phase 4 Films, the following was buried in the release:
A division of SModCo, SModcast Pictures covers the visual spectrum of S.I.R. and SModcast.com. Their forthcoming releases include the unscripted series COMIC BOOK MEN for AMC, and JAY & SILENT BOB'S SUPER GROOVY CARTOON MOVIE, a blend of live action footage and R-rated animation. SModcast Pictures also produces the SMODCO CARTOON SHOW – a monthly series that animates audio from various SModcast.com podcasts.
That piece of information didn't really get talked about but Smith elaborated a bit at Thursday's event. According to /Film reader Raymond A. (@smoothevity on Twitter) Smith confirmed the blend of live action and animation and said they hope the animated film will be ready to be part of Midnight Madness at the 2012 Toronto Film Festival. We're trying to find out more.
Speaking of Toronto, that's where Smith said he thinks Hit Somebody will eventually premiere...in 2013. He'd previously said he was hoping the film would be ready by next year's Sundance Film Festival, but as he's still working on the massive script (upwards of 200 pages) the film likely won't be done in time for the submission deadline, which is now about seven months away.
Moviebuzzers.com has a great article with all the info including the following:
Shooting is likely to start in June or July.
The budget will be between $15-$20 million.
The film is too pricey to tour ala Red State, but he does hope to host special Canadian screenings in hockey arenas with the film playing projected on the ice.
It takes place between 1950 and 1980 and isn't a comedy. It'll be more like Field of Dreams with hockey.
There's more at the article so check it out. If all goes according to plan, though, Smith is going to be a very, very busy man in the coming years.
Are you excited to hear about Jay and Silent Bob returning to the big screen?