Amy Adams, Carey Mulligan, Joaquin Phoenix, And Samantha Morton Lined Up For Untitled Spike Jonze Project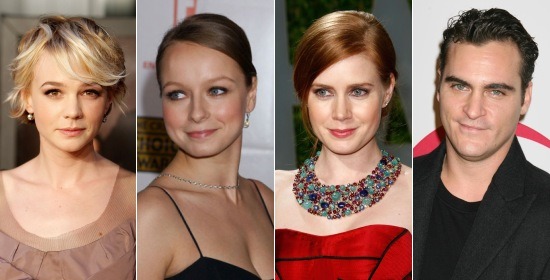 Spike Jonze has been plenty busy cranking out short films over the past few years, but he hasn't directed a full-length feature since 2009's Where the Wild Things Are. That's about to change, though, and he's already lining up quite an exciting cast for his return to feature filmmaking. Samantha Morton, Amy Adams, and Carey Mulligan are reportedly in talks to star with Joaquin Phoenix in the untitled romance, which was also written by Jonze. Read more after the jump.
Confusingly, this is apparently a separate project from the Jonze / Charlie Kaufman collaboration we previously reported on, which also has Phoenix and Mulligan attached to star. That film is a satire about global leaders congregating to discuss upcoming major events that will affect the world, from fluctuating oil prices to impending wars.
The digital romance marks Adams' first collaboration with Jonze. Adams' other upcoming films include Man of Steel, Trouble With the Curve, and Paul Thomas Anderson's The Master, which also stars Phoenix.
Morton previously worked with Jonze on Kaufman's directorial debut Synecdoche, New York, which Jonze produced. Morton will next appear in Andrew Stanton's John Carter and David Cronenberg's Cosmopolis.
Mulligan recently wrapped Baz Luhrmann's The Great Gatsby, which also stars Leonardo DiCaprio, Joel Edgerton, and Tobey Maguire, and is currently shooting the Coen Brothers' Inside Llewyn Davis opposite her Drive co-star Oscar Isaac.