Russell Crowe May Be Darren Aronofsky's 'Noah;' Liam Neeson Eyed For Additional Role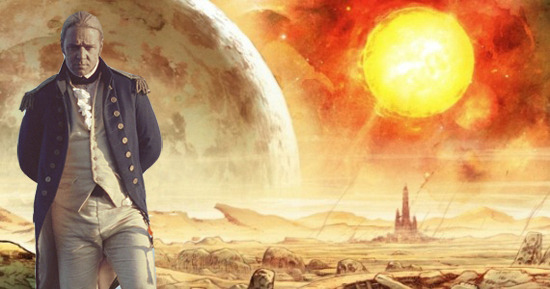 We'll probably never see Russell Crowe in a sequel to Master and Commander: The Far Side of the World, but what about having Crowe play the commander of another ship in another epic adventure film? How about if he was the commander of the ship — by which I mean Noah, and his ark. And then throw in Liam Neeson in another major role, under the direction of Darren Aronofsky. That's how the cast of Aronofsky's long-gestating Noah is starting to take shape.
Deadline reports that Aronofsky wants Crowe to play Noah, and that he has Liam Neeson in mind for another role. No deals are signed yet, but the suggestion is that, with Crowe at least, that's where things are headed.
Given that Christian Bale ended up filling his schedule with a couple of Terrence Malick films, and that the budget of Noah is north of $100m, it isn't a surprise to see Aronofsky look to someone like Crowe. The actor is one of the few guys left who could legitimately be called a movie star in something like the classic sense of the term. He certainly has the presence to play a character like Noah, and the hardiness to work with a director like Aronofsky.
And with cinematographer Matty Libatique mentioning recently that Noah is looking for a villain it isn't difficult to guess that he's talking about the role that could go to Liam Neeson. Would you see an Aronofsky film with Crowe as Noah and Liam Neeson as the guy screaming that Noah is going to be the death of everyone and has to be stopped? I sure as hell would.
For those who are just clicking on Noah news now thanks to Crowe's involvement, this is a project that Darren Aronofsky started talking about in very vague terms way back when he was promoting The Fountain. (Ahem.) But his interest in the story goes back a lot further than that. So he's been working on the thing for years now, but in the past year it has really started to pick up steam, with New Regency and Paramount agreeing to fund the movie. There's even a graphic novel inspired by the script that you can reference to see what sort of movie this might end up being. (That's the origin of most of the header image above.)