Akiva Goldsman's Directorial Debut 'Winter's Tale' Moving Forward With Reduced Budget, Will Smith And Russell Crowe In Talks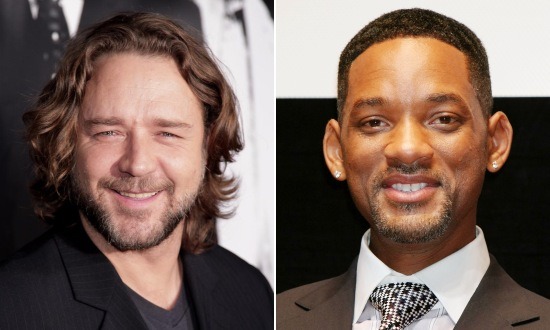 Though Akiva Goldsman has been behind some of Hollywood's biggest hits of the '90s and '00s as a screenwriter and a producer, it's only now that he's gearing up to make his directorial debut. For the past few years, he's been trying to get together an adaptation of Mark Helprin's magical realism novel Winter's Tale, and he finally got the green light from Warner Bros. last year. Now the project is taking another big step forward, as two huge names enter talks to star: Russell Crowe and Will Smith. More after the jump.
Set in an alternate-universe version of 19th-century Manhattan, Helprin's tale follows a thief named Peter Lake who attempts to rob an Upper West Side mansion. The building turns out not to be as empty as he'd expected, and he meets and falls for Beverly Penn, the dying young woman he finds within. Which sounds straightforward enough, but the story also involves plenty of fantastical elements such as a flying white horse / guardian angel, a rainbow bridge, and a cloud wall. The two leads have yet to be cast, though November's story named Tom Hiddleston and Benjamin Walker as possibilities to play Peter and Bella Heathcote, Elizabeth Olsen, Gabriele Wilde, and Sarah Gadon as being in the mix for Beverly.
Crowe and Smith aren't the only reasons the film is picking up steam at long last, though. Goldsman has resolved a major sticking point by slicing $20 million from the budget, which was previously reported as being in the $75 million range. At this rate, Winter's Tale could begin shooting as early as this fall.
Synopsis:
New York City is subsumed in arctic winds, dark nights, and white lights, its life unfolds, for it is an extraordinary hive of the imagination, the greatest house ever built, and nothing exists that can check its vitality. One night in winter, Peter Lake—orphan and master-mechanic, attempts to rob a fortress-like mansion on the Upper West Side. Though he thinks the house is empty, the daughter of the house is home. Thus begins the love between Peter Lake, a middle-aged Irish burglar, and Beverly Penn, a young girl who is dying. Peter Lake, a simple, uneducated man who, because of a love which at first he does not fully understand, is driven to stop time and bring back the dead.