'A Cat In Paris' And 'Chico & Rita' Trailers: Get A Taste Of Two Lesser-Known Oscar Nominees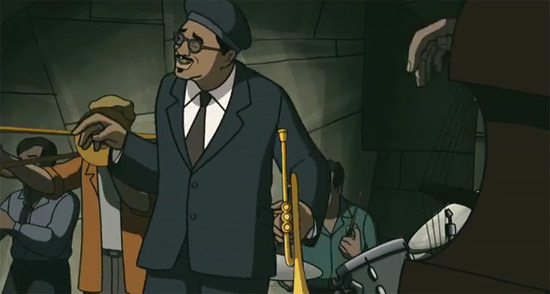 We'll likely spend some of today reacting to the Oscar nominations, which were announced this morning. But before we get to complaining and picking apart the Academy choices that snubbed certain films, let's celebrate a couple of movies that just got a big bump from the Oscar nods.
In the Best Animated Film category two of the nominated films are ones that are probably unfamiliar to a lot of people. A Cat in Paris, by Alain Gagnol and Jean-Loup Felicioli, and Chico & Rita, by Fernando Trueba, Javier Mariscal and Tono Errando were both nominated. But before you get too up in arms that these movies helped snub Pixar and/or Tintin, take a look at the trailers for the two films below. Chico & Rita, for example, is simply gorgeous.
Chico & Rita premiered at the Toronto International Film Festival last September. The following synopsis is from TIFF:
Oscar-winning director Fernando Trueba teams up with famed designer Javier Mariscal to create an epic animated love story that occurs around the time of the Cuban Revolution. Highlighting a pivotal moment in the evolution of jazz and travelling from Havana to New York, Chico and Rita is a tribute to the music, culture and people of Cuba. The film is also rife with jazz history. Charlie Parker and Dizzy Gillespie are seen playing the clubs and the story of Chano Pozo, one of the first Latin percussionists to grace a major American jazz band, is fluidly interwoven with the narrative.
The style of A Cat in Paris doesn't do as much for me as does the look of Chico & Rita, but it is also a wonderful-looking movie. There's a certain element of Richard Sala's old style in the animation, and the painted cells are a real pleasure to behold. Here's the synopsis from one distributor:
By day a child's beloved companion... by night, a rooftop-roaming thief! Presenting Alain Gagnol and Jean-Loup Felicioli's captivating new film, from France's most acclaimed animation studio, Folimage. Our tale's hero is Dino, a common house cat who lives a double life. He's the loyal pet of Zoe, a lonely little girl who lives with her busy single mother Jeanne, a police officer. But after sundown, he clambers over the rooftops of Paris in the company of Nico, a skilled thief with a big heart. Eventually, Zoe discovers what Dino is up to and becomes drawn into a thrilling, adventure involving jewels, gangsters and capital-T trouble. A Cat in Paris is a completely refreshing and unique throwback to the traditional form – every cell of the film has been hand-painted, and its highly stylized, colour-saturated design looks absolutely gorgeous on the big screen. A must-see for animation fans of all ages.