Julia Roberts, Alec Baldwin, Matt Bomer, And Jim Parsons To Join Mark Ruffalo In Ryan Murphy's 'The Normal Heart'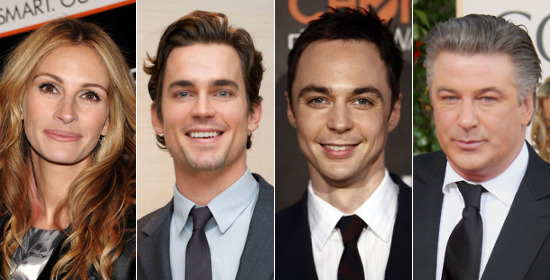 Ryan Murphy is best known as the co-creator of such unusual TV hits as Glee, American Horror Story, and Nip/Tuck, but he's slowly been building up a big-screen career as well. Though 2006's Running with Scissors wasn't quite a box office smash, 2010's Eat Pray Love pulled in $200 million worldwide despite mediocre reviews.
Murphy is now gearing up for his third feature, the HIV/AIDS drama The Normal Heart. Mark Ruffalo boarded the project a couple of years ago and was the only star attached for a while, but the project's now landed four more high-profile stars in Julia Roberts, Alec Baldwin, Matt Bomer, and Jim Parsons, and is said to be eyeing Viggo Mortensen as well.
Roberts is attached to take over Barkin's Tony-winning role as Emma Brookner, a wheelchair-bound polio survivor and one of the few doctors taking the so-called "gay cancer" seriously. Bomer will step into Hickey's old character Felix Turner, a gay fashion journalist, Weeks' boyfriend, and eventual AIDS patient. Parsons, who made his Broadway debut in the 2011 stage version, will reprise his own role as Tommy Boatwright, a Southerner and gay activist. Baldwin will play Weeks' brother Ben, who struggles to accept Ned's sexuality. In addition, Variety reports that Murphy wants Mortensen for the part of Green Beret-turned-gay activist Bruce Niles, but it seems Mortensen's far from a sure thing at this point. Roberts previously starred in Murphy's Eat Pray Love, while Baldwin appeared in Running With Scissors.
Brad Pitt's Plan B is producing the picture, which has yet to announce a start date.
[Source: The Hollywood Reporter]