'Resident Evil: Retribution' Trailer: Only Like 40% Of It Advertises Sony Products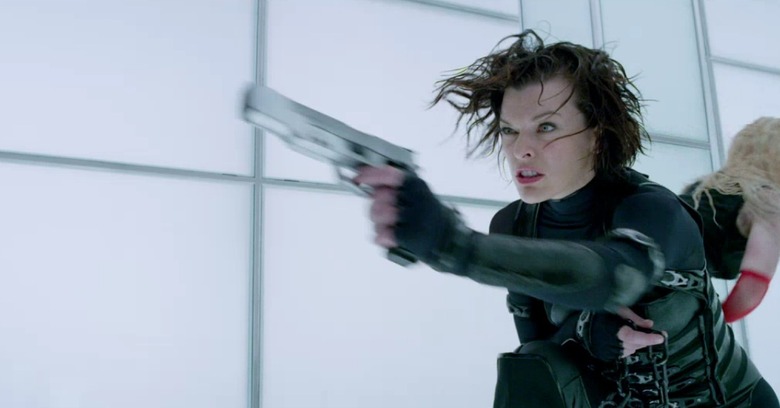 With a worldwide gross of $296 million, 2010's Resident Evil: Afterlife was the best office performer yet of the video game-based Resident Evil film franchise. That made a fifth Resident Evil a no-brainer, so over the past year and change there's been a steady stream of news, casting announcements, and set photos from the movie that would eventually be titled Resident Evil: Retribution.
Today we finally have the first real trailer for the Retribution, and it should be a treat for Resident Evil fans — once you get past the first 20+ seconds of Sony commercials, that is. Yep, Sony electronics ads actually make up over a third of the trailer. Watch it after the jump.
I understand cross-promotion and product placement, but this is just obnoxious. I came here to see Resident Evil: Retribution clips, Sony, not a just-kidding-but-seriously commercial for your gadgets.
Happily, the actual footage from Retribution looks like the kind of cool, stylish, totally unrealistic action we've come to expect from the franchise. I've never been that into Resident Evil myself, but I'd imagine that if you liked the last four Resident Evils, you'll enjoy this one as well.
Directed by Paul W.S. Anderson and once again starring Milla Jovovich as Alice, Resident Evil: Retribution hits September 14. Returning stars Sienna Guillory, Shawn Roberts, Oded Fehr, Michelle Rodriguez, Colin Salmon, and Boris Kodjoe also appear, along with newcomers Johann Urb, Li Bingbing, and Kevin Durand.
Synopsis:
The Umbrella Corporation's deadly T-virus continues to ravage the Earth, transforming the global population into legions of the flesh eating Undead. The human race's last and only hope, Alice (Milla Jovovich), awakens in the heart of Umbrella's most clandestine operations facility and unveils more of her mysterious past as she delves further into the complex. Without a safe haven, Alice continues to hunt those responsible for the outbreak; a chase that takes her from Tokyo to New York, Washington, D.C. and Moscow, culminating in a mind-blowing revelation that will force her to rethink everything that she once thought to be true. Aided by newfound allies and familiar friends, Alice must fight to survive long enough to escape a hostile world on the brink of oblivion. The countdown has begun.