BBC 'Sherlock' Confirmed For Third Season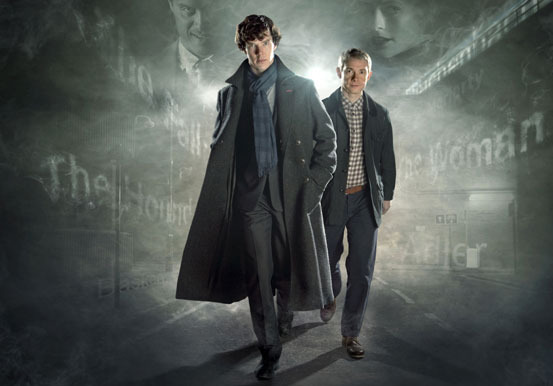 The second season of the BBC incarnation of Sherlock Holmes, simply titled Sherlock, premiered not long ago and has already finished its run. Seasons of the show are only three episodes each, though each 90-minute episode is essentially as good as a standalone Sherlock Holmes film, and the series as a whole is infinitely superior to the Warner Bros. films starring Robert Downey, Jr. and Jude Law. (Though, to be fair, the aims of the two approaches are quite different.)
If you're bummed that season two is already done, take heart: after the finale, show creator Steven Moffat said via Twitter, "Yes of course there's going to be a third series — it was commissioned at the same time as the second. Gotcha!"
That 'gotcha!' is in reference to Moffat's earlier statements, which made a third season seem far less than certain.
Since the second season has yet to air in the US (that begins in May) I won't say anything about the last episode of season two, apart from mentioning that it references the same classic Holmes tale that played a part in Sherlock Holmes: A Game of Shadows.
As for the cast, there is no formal announcement of the return of the leads, but it seems almost certain. Martin Freeman, who plays Watson, has said he would very much like to do more of the show. And while Benedict Cumberbatch, who plays a wonderful Sherlock, is becoming a lot more busy, what with dual roles in The Hobbit films and a big role in J.J. Abrams' Star Trek sequel, he will probably be back, too. The show wouldn't be the same without him. One of his reps told Deadline "I'm sure he would love to do a 3rd series. It's very unlikely they would have Sherlock without Sherlock."
The first season of Sherlock is still streaming on Netflix; for those who haven't yet seen the show, I can't recommend it highly enough.