Steven Spielberg Talks 'Robopocalypse' Theme And Timeline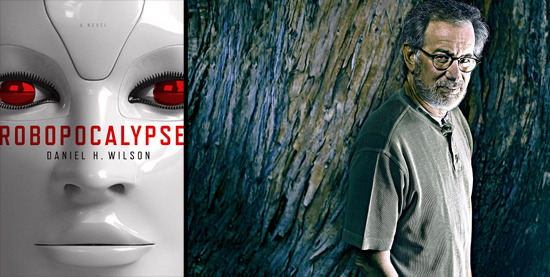 We may receive a commission on purchases made from links.
Life is good when the wait is short for a new Steven Spielberg movie. The Oscar-winning director left three years gaps between new films in 2005, 2008 and 2011 but when he came back, we got a double dose: War Horse and The Adventures of Tintin. The wait won't be nearly as long for the next two. He's already well into shooting Lincoln, which is aimed at a late 2012 release date and once he's done with that, he'll head to Canada to shoot his July 2013 release Robopocalypse, based on the book by Daniel H. Wilson.
Spielberg recently spoke to a London magazine about his 2011 movies and while he wasn't too open about his 2012 movie, he was willing to spill about Robopocalypse. Read his quotes regarding the themes of the film and when it'll be set after the jump.
The quote in question comes from Time Out London, via The Playlist.
It's a movie about a global war between man and machine. I had a great time creating the future on "Minority Report", and it's a future that is coming true faster than any of us thought it would. "Robopocalypse" takes place in 15 or 20 years, so it'll be another future we can relate to. It's about the consequences of creating technologies which make our lives easier, and what happens when that technology becomes smarter than we are. It's not the newest theme, it's been done throughout science fiction, but it's a theme that becomes more relevant every year.
Setting sci-fi in a specific, not-too-distant future is always a risk, especially because people will obviously still remember your movie when it's taking place. However, from what Spielberg is saying, he's more worried that the 2013 audience relate to it, which is certainly the smart play. There's also the chance that Robopocalypse will be skewed less sci-fi and more action, making the technology less of an issue. Let's look at the book description for more info:
In the not-too-distant future, robots have made our lives a lot easier: they help clean our kitchens, drive our cars, and fight our wars–until they are turned into efficient murderers by a sentient artificial intelligence buried miles below the surface of Alaska. Robopocalypse is a fast-paced sci-fi thriller that makes a strong case that mindless fun can also be wildly inventive. The war is told as an oral history, assembled from interviews, security camera footage, and first- and secondhand testimonies, similar to Max Brooks' zombie epic World War Z. The book isn't shy about admitting to its influences, but author Daniel H. Wilson certainly owes more to Terminator than he does to Asimov. Robopocalypse may not be the most unique tale about the war between man and machine, but it's certainly one of the most fun.
From that, it sounds like technology is certainly important to the film, but that it's all in service of the action. I'll be curious to find out how advanced the film thinks we'll be in 15 or 20 years. Will it grossly over shoot it like most films do? Or make things only slightly different?
Reading both of those passages, the one other thing I'll point is that both Spielberg, and the Amazon description, recognize the fact that this is not a unique story. Why say that?