Five New 'The Dark Knight Rises' Photos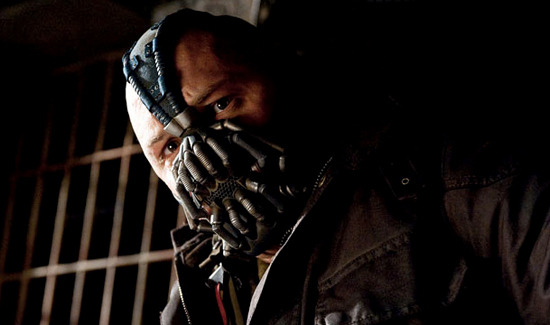 You didn't think Entertainment Weekly would run a cover story on The Dark Knight Returns and not feature some other new photos inside, did you? Last night we showed you the cover image from the new EW, which features the best look yet at Christian Bale in the new Batman suit. Here are three more images, of Gary Oldman as Jim Gordon, Tom Hardy as Bane and Bale as Batman.
Update: Two more images showed up, so they've been adeed to the gallery below.
We've already covered the big quotes from Christopher Nolan and Christian Bale that came out of the issue — notably that Nolan says in the context of the film Bane's voice will make a lot more sense:
I think when people see the film, things will come into focus. Bane is very complex and very interesting and when people see the finished film people will be very entertained by him.
The issue also confirms that Batman will return to a rebuilt Wayne Manor and the Batcave in this film, which is something that most of you probably already realized.
The Dark Knight Rises also features Michael Caine, Morgan Freeman, Anne Hathaway, Joseph Gordon-Levitt, Marion Cotillard, Juno Temple, Josh Pence, Daniel Sunjata, Nestor Carbonell, Matthew Modine, Tom Conti, Joey King, Brett Cullen, Chris Ellis, Josh Stewart, Christopher Judge, Adam Rodriguez and Rob Brown.
It opens on July 20. And while we're likely to see quite a few more images over the next few months, don't expect another major trailer until around May, likely in front of Dark Shadows.