'Friends With Kids' Trailer: 'Bridesmaids' Co-Stars Reunite In Jennifer Westfeldt's Directorial Debut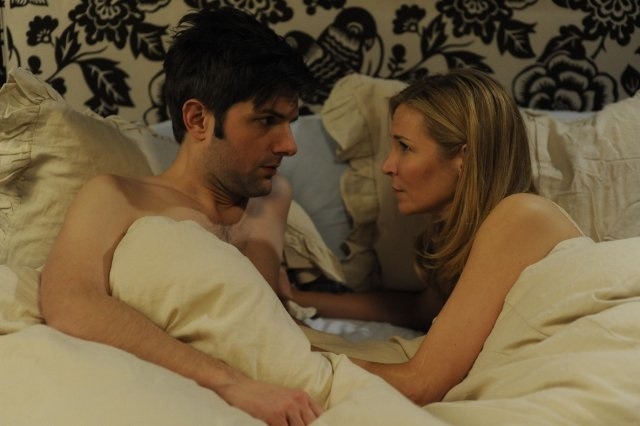 After all the recent back-and-forth, the only thing that's clear at this point about Bridesmaids 2 is that nobody knows right now whether there'll really be a Bridesmaids 2, and if so, whether star Kristen Wiig will be involved. In the meantime, however, fans of that film can comfort themselves with Jennifer Westfeldt's indie romcom Friends With Kids. It's not exactly a sequel — and by "exactly," I mean "at all" — but it features so many Bridesmaids actors that it might as well be.
Wiig, Maya Rudolph, Jon Hamm, and Chris O'Dowd, plus non-Bridesmaids actors Westfeldt and Adam Scott, star as a group of close friends at different stations in life. When two of their number (Westfeldt and Scott) decide to have a child together without having a romantic relationship together, their situation seems ideal at first — until Megan Fox and Ed Burns come along to shake things up. Watch the first trailer after the jump.
Friends With Kids premiered at last year's Toronto Film Festival to favorable reviews; our own Peter Sciretta praised it as "smarter than your average indie romcom" and noted that "it will be hard for you to dislike this film if you like the cast." Based on the trailer, I'm inclined to agree. Friends With Kids looks sweet and funny enough to appeal even to folks who aren't as familiar with this team's previous works, but the fact that I'm a already huge fan of several of these actors bumps this up to a must-see for me.
The film marks the directorial debut of Westfeldt, who also wrote the screenplay. Westfeldt previously wrote, co-produced, and starred in 2001's Kissing Jessica Stein. Friends With Kids opens March 9, 2012.
Synopsis:
A close-knit circle of friends are at that moment in life when children arrive and everything changes. The last two singles in the group observe the effect that kids have had on their friends' relationships and wonder if there's a better way. They decide to have a kid together – and date other people.