Elton John's Top Casting Choice For The Elton John Biopic: Justin Timberlake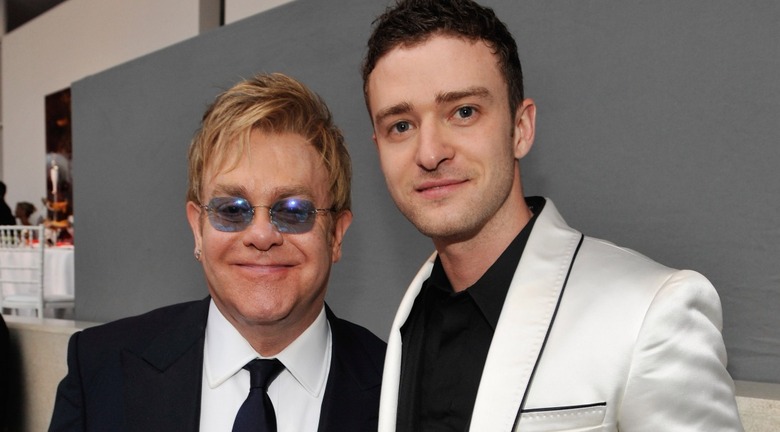 Napster co-founder Sean Parker and Elton John may have something in common soon, if the legendary musician has his way. Back in September, we told you about an upcoming biopic of John to be produced by John himself through Rocket Pictures. Naturally, we wondered at the time who would be worthy of stepping into John's shoes.
Well, it seems John's been considering the same thing, and has landed on one particular talent as his top choice: Justin Timberlake. Considering that the actor/musician has actually played the part previously, in David LaChapelle's music video for John's "This Train Don't Stop There Anymore," John's choice seems just about perfect. More details — plus a video of Timberlake-as-John — after the jump.
Although Timberlake first broke out as a pop star in the '90s, he's focused primarily on acting over the past several years. While none of his last few projects — Bad Teacher, Friends with Benefits, and In Time — have been showcases for heavyweight acting, 2010's The Social Network proved he could hold his own against acclaimed young stars like Jesse Eisenberg and Andrew Garfield. Add in the fact that he can sing, and it's easy to see how he'd be ideal casting for this role.
John's "biographical musical fantasy" has previously been described as "non-linear and hyper-visual," with choreographed dance sequences set to John's greatest hits. In the new interview, John teased the possibility of new songs for the soundtrack, and called the movie "a jukebox musical in earnest" in the style of Baz Luhrmann's Moulin Rouge! Not that Luhrmann will actually be directing it, though. "We tried to get Baz [Luhrmann], but Baz is so busy," said John.
Watch Timberlake channel his best Rocket Man in the video below, and hit the comments to tell us what you think of John's pick:
[via EW]