Arnold Schwarzenegger Playing An Angel In Action Thriller 'Black Sands'?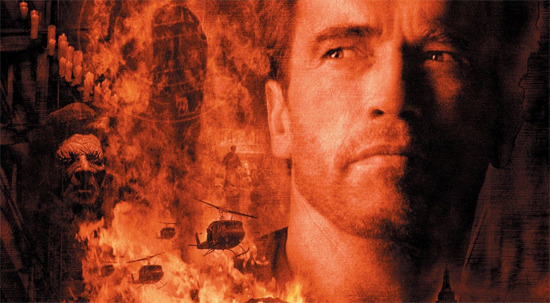 In a few months, Arnold Schwarzenegger is going to shoot Black Sands, the next film on his comeback trail. It will follow The Last Stand, an action film set near the Mexican border, which was directed by Kim Ji-woon (I Saw the Devil; The Good, the Bad, the Weird).
Black Sands should start shooting on April 1. Over the weekend a report leaked out saying that the title had changed to Black Sunday, and while that part isn't correct — the film is still called Black Sands — it seems like another detail in the same report is accurate. Specifically, there is a supernatural aspect to the film, putting this one close to End of Days territory.TheArnoldFans presents a quote from Schwarzenegger reportedly saying "I'm a kind of angel... I can not currently say more about this film." I'm not sure where the quote comes from, but it seems to be from another unattributed source. When the site's post was amended after one of Arnie's reps wrote in to specify that a name change had not taken place, part of that confusion was put down to a poor Google Translate effort.
The first info we'd had on the Skip Woods-penned film is that it follows "a lone man (Schwarzenegger) facing down a weapons manufacturer and his private army." The overall feel was said to be "like High Plains Drifter meets Man on Fire," but now this report says it could be like "a cross between Constantine and Commando." We don't know if the supernatural element is part of a rewrite, or just newly-reported old info. (The High Plains Drifter comparison could easily point to a supernatural aspect, too.)
The two guys who directed the Navy SEALs movie Act of Valor, Scott Waugh and Mike McCoy, are directing Black Sands.