Sequel Bits: Warner Bros. Registers 'Green Lantern 2' And 'Gremlins 3', Plus: 'Pineapple Express 2?, 'Mission: Impossible 5?, 'G.I. Joe: Retaliation'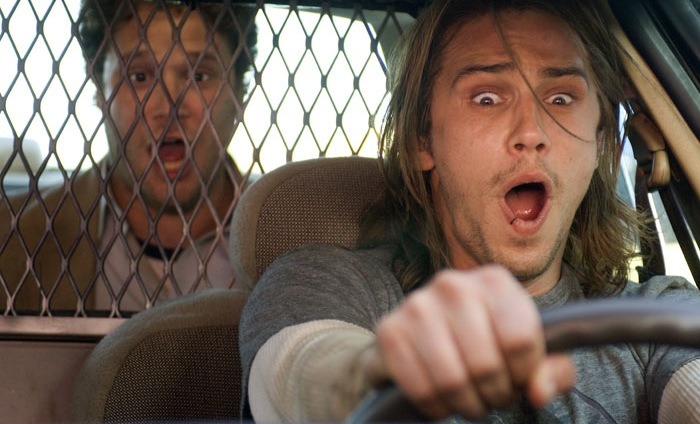 We've got news for you on several sequels today, some more realistic than others. On the "coming soon to a theater near you" end, there's a new synopsis for G.I. Joe: Retaliation; meanwhile, projects like Gremlins 3 and Pineapple Express 2 have been rumored for ages but as far as we can tell they're still just a twinkle in some studio exec's eye. After the jump:
Warner Bros. registers domains for Green Lantern 2 and Gremlins 3
Seth Rogen discusses the possibility of a Pineapple Express sequel
G.I. Joe: Retaliation gets an official synopsis
Paramount moves forward on a Mission: Impossible sequel and Top Gun 2
MovieHole reports that Warner Bros. has just renewed its registration for GreenLantern2.com. While a domain renewal isn't solid confirmation that another Green Lantern film is imminent, MovieHole points out that Warner Bros. wasn't scrambling to pick up just anything, as it didn't reserve domains for other rumored projects like Blade Runner 2, Lost Boys 4, and The Goonies 2.
Also on Warner Bros.' domain shopping list was Gremlins3.com, which the studio has held since 2009. Once again, this doesn't indicate that we'll be seeing the return of Gizmo right away, but it does suggest that the studio is actively interested in keeping the Gremlins franchise going.
Over the summer, director Joe Dante noted that a new film would probably be CGI, and that therefore "I would think they would just go back to the beginning and remake it" as opposed to picking up where Gremlins 2 left off. He also stated at the time that he did not expect to be involved. [via Comic Book Movie]
That Pineapple Express sequel doesn't seem much closer to happening now than it was when rumors first began swirling a few years ago, but from the sounds of it, it's still a possibility. In an interview with E! Online, star Seth Rogen expressed a mild interest in bringing back Saul, Dale, and Red for another round. "I don't think it's so precious that I wouldn't want to ruin it with a sequel," he said. "So yeah, I would be [into it]. We talk about it. We joke around about it."
There are a few hurdles in the way, however, including co-writer Evan Goldberg's previously stated reluctance to revisit the property. "I've been the one stopping it," he told CinemaBlend back in January. Producer Judd Apatow seemed somewhat more open to the idea back in 2009, saying we'd "have a better shot at seeing" Pineapple Express 2 than Superbad 2, but then there's also the issue of getting all these busy folks back together again. In short, while I wouldn't mind seeing the pothead gang again, it likely won't be anytime soon. [CinemaBlend]
Now that we've seen the very first trailer for G.I. Joe: Retaliation, Paramount Pictures has released a synopsis explaining precisely what the film is about. How telling that it opens by noting how much the first G.I. Joe grossed worldwide (kidding, mostly):
A follow-up to the 2009 release of G.I. JOE: RISE OF THE COBRA, which grossed over $300M worldwide, Paramount Pictures, MGM and Skydance Productions, in association with HASBRO and di Bonaventura Pictures, commences production on G.I. JOE: RETALIATION. In this sequel, the G.I. Joes are not only fighting their mortal enemy Cobra; they are forced to contend with threats from within the government that jeopardize their very existence.
Okay, so the vague description doesn't really reveal much we didn't already know, but it never hurts to have the studio clear things up. Directed by John Chu and starring Dwayne Johnson, Channing Tatum, Bruce Willis, Adrianne Palicki, D.J. Cotrona, Byung-hun Lee, Ray Park, RZA, Joseph Mazzello, Elodie Yung, and Walton Goggins, G.I. Joe: Retaliation opens June 29, 2012. [Comic Book Movie]
In news that shouldn't surprise too many people, MovieHole is reporting that in the wake of Mission: Impossible – Ghost Protocol's critical and commercial success, Skydance and Paramount plan to move forward with a fifth Mission: Impossible movie. The site quotes an anonymous source at Paramount as saying they're "extremely happy" with Ghost Protocol's box office performance, and that "Skydance definitely wants to get going quickly on [Mission] 5. And a Top Gun."
While the original idea was for Ghost Protocol to mark Tom Cruise's exit from the franchise, with Jeremy Renner's character stepping up as the new lead in Mission: Impossible 5, star Simon Pegg says that's not the case anymore. "I think that might have been the plan earlier on," MovieHole quotes him as saying, "but as the film progressed and we enjoyed it so much I think the idea of Ethan Hunt retiring fell by the wayside. Tom [Cruise] suddenly remembered why he loved doing these films so much and suddenly thought 'well maybe I do want to do more?'"
Meanwhile, we already knew that Top Gun 2 was in the works at the studio, but it sounds like Skydance's success with Mission: Impossible has Paramount excited anew about the sequel. Expect to hear more updates soon. [via Collider]